Read our monthly update on VFACTS new car sales results.
---
---
New Car Sales February 2021
February 2021 saw a total figure of 83,977 new car sales for Australia as reported by VFACTS
Figures show new car sales increased by 5% in February 2021 versus February 2020
With COVID-19 cases being limited, it appears new car sales are returning to pre-COVID norms
WA continues to see strong increases in 2021, up 3,162 units (+23%) compared to 2020
Victoria, however, is on a decline so far in 2021, down 1,616 units (-4%) due to lockdowns
---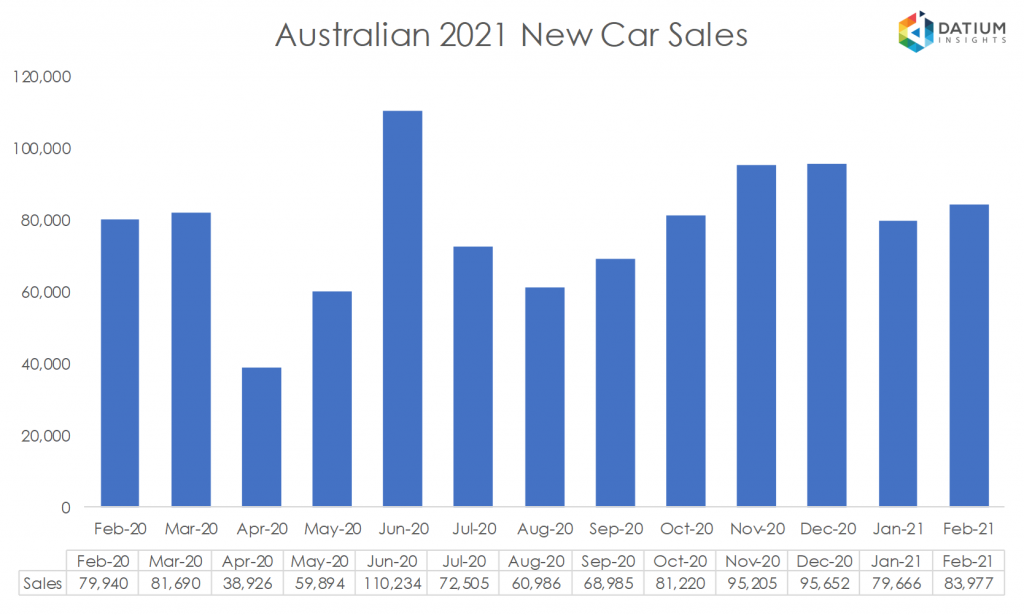 ---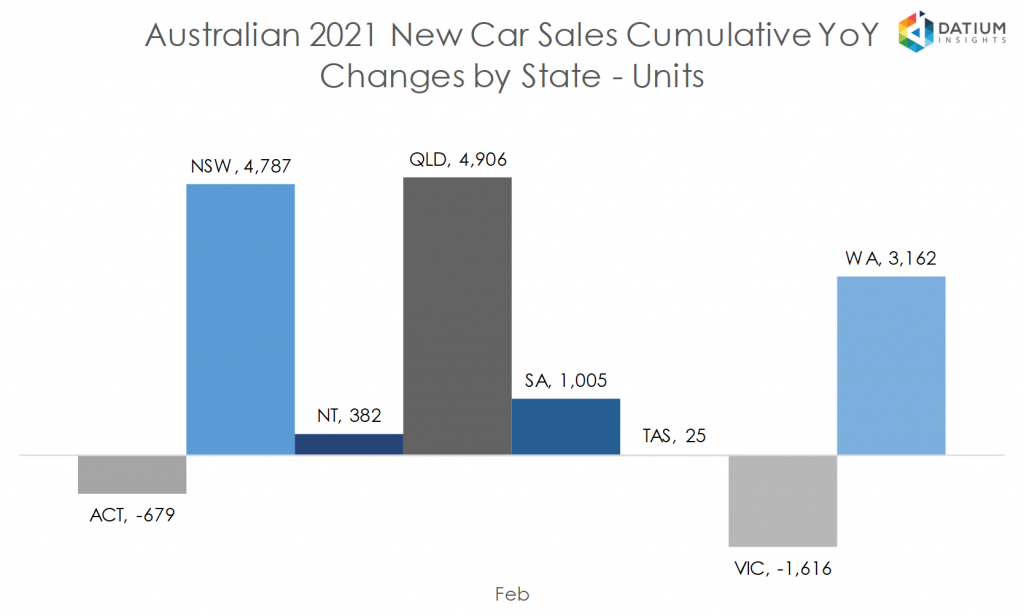 ---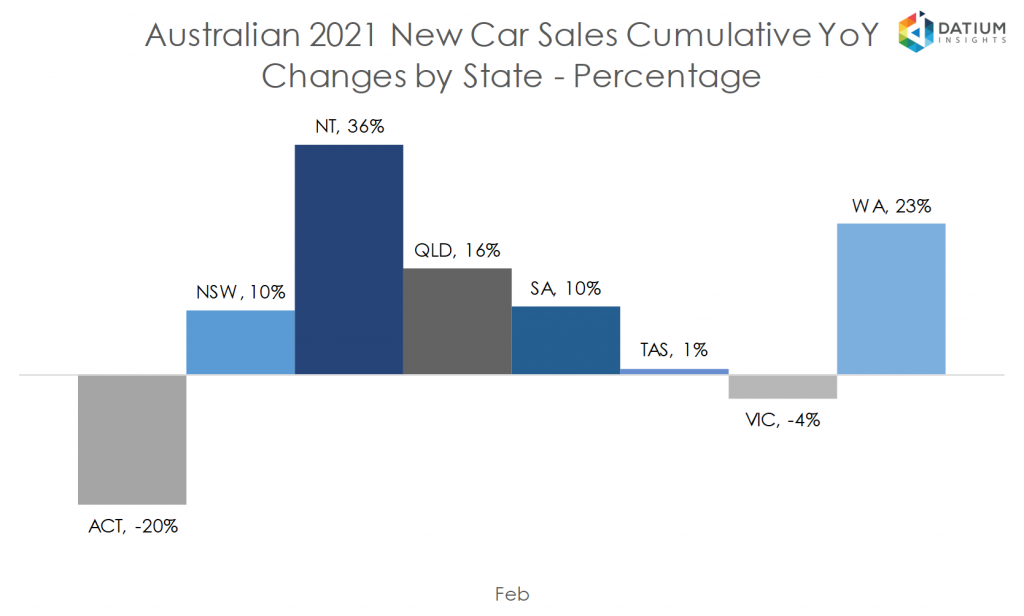 ---
New Car Sales Trends
The top 5 models with the greatest increases so far in 2021 are:
MG ZS (+1,903 units)
Toyota Hilux 4X4 (+1,830 units)
Isuzu Ute D-Max 4X4 (+1,521 units)
Toyota RAV4 (+1,194 units)
MG MG3 (+1,057 units)
The bottom 5 models with the greatest decreases so far in 2021 are:
Volkswagen Golf (-2,353 units)
Holden Colorado 4X4 (-1,576 units)
Toyota Kluger (-1,434 units)
Toyota Yaris (-1,250 units)
Honda CR-V (-901 units)
The top segment increases so far in 2021 compared to 2020 are:
SUV Light (+76%)
Vans/CC 2.5-3.5t (+67%)
Micro (+3%)
SUV Upper Large < $100K (+53%)
Large > $70K (+37%)
Conversely, some of the largest decreases are:
Light Buses => 20 Seats (-48%)
Upper Large > $100K (-47%)
Large < $70K (-37%)
Sports > $200K (-33%)
Medium < $60K (-28%)
Some other highlights so far:
Toyota continues to dominate sales increases with 4 of the top 10 increases in 2021 being Toyota models
Chinese brand MG is making headwinds, with it's ZS and MG3 models seeing substantial increase in 2021
Passenger vehicles continue to see the largest declines in sales in 2021 (-12%), particularly in small (-20%) and medium (-19%) segments
The rental market continues to shrink in 2021, with 996 less cars (-12%) selling in 2021 to rental businesses
---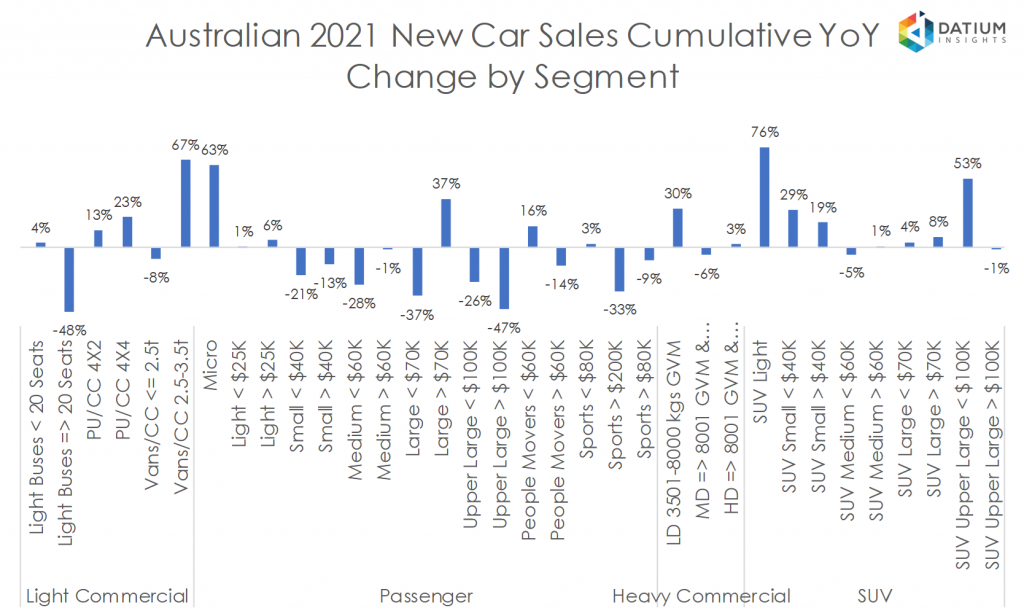 ---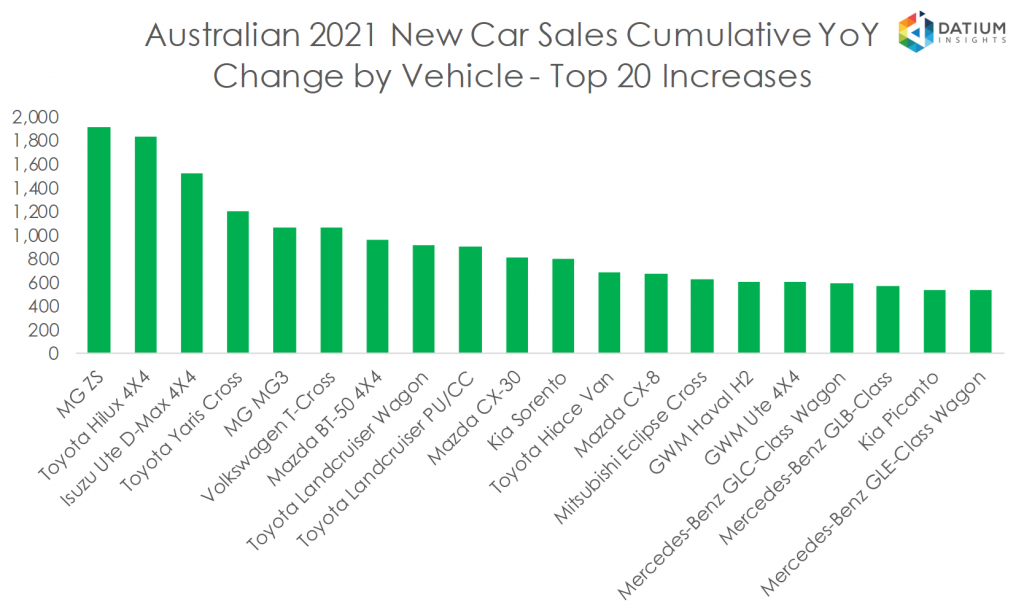 ---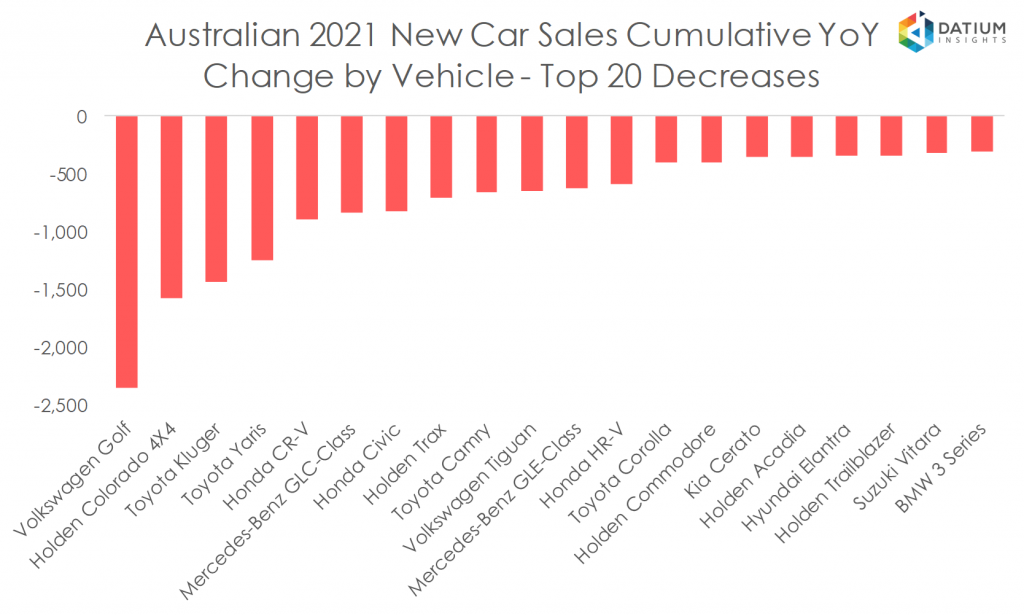 ---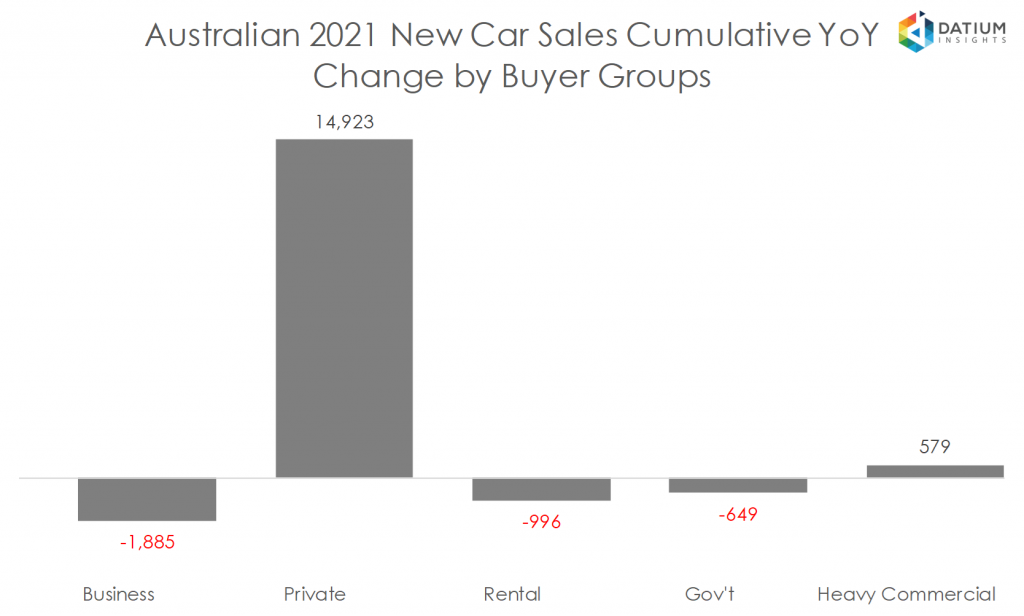 ---
Sales by Import Country
Sales of imported vehicles from Japan continue to rebound significantly in 2021, seeing an increase of 9,845 units compared to 2020
Sales of imported vehicles from China continue to skyrocket in 2021 with an increase of 5,562 compared to 2020
Sales of imported vehicles from Germany, Thailand and USA saw the largest declines so far, with Germany down 4,654 units, Thailand down 2,931 and the US down 2,291 units. These countries have been hit by production issues due to COVID outbreaks.
---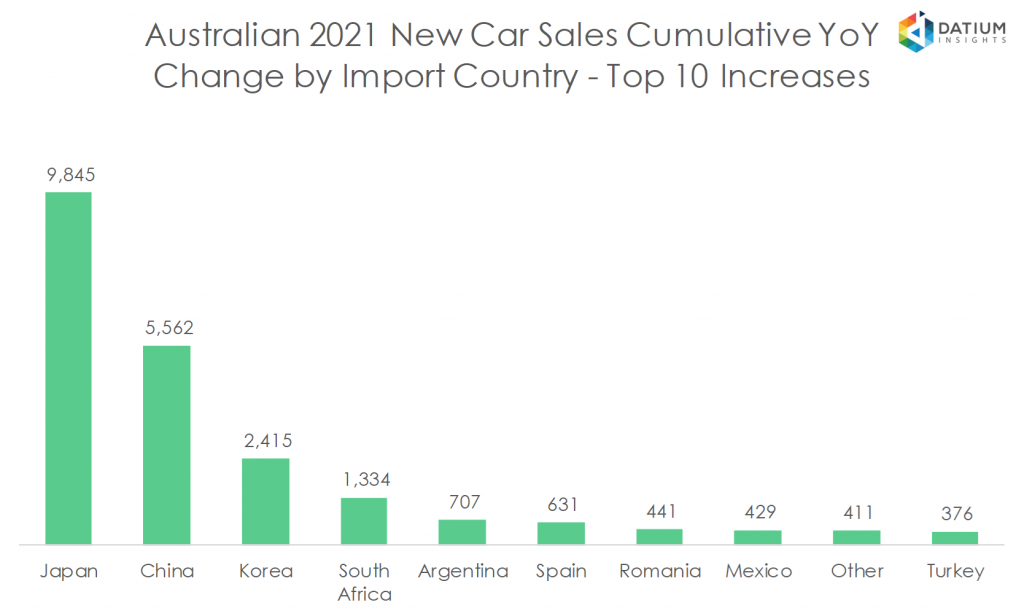 ---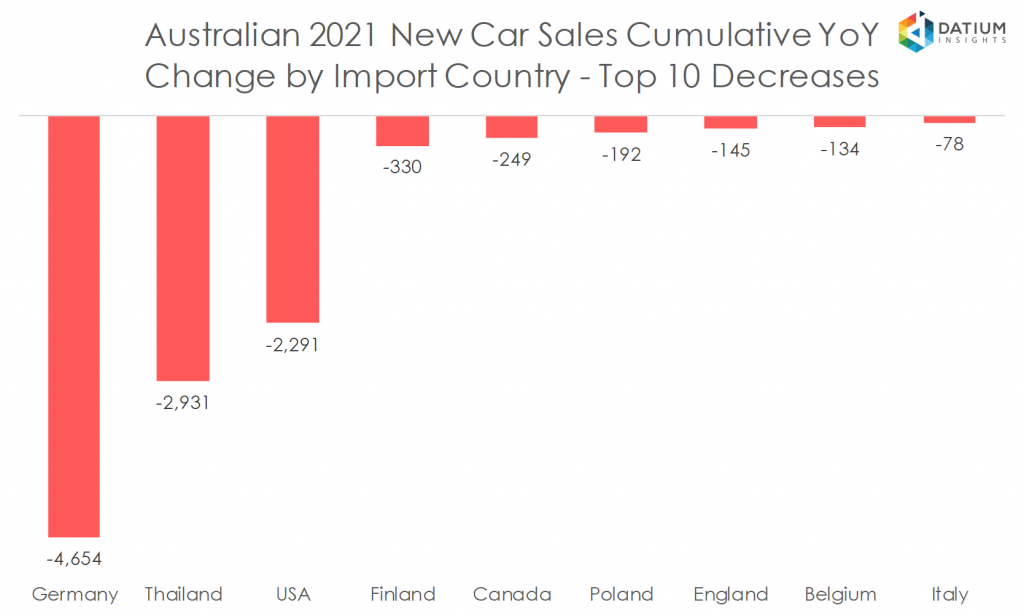 ---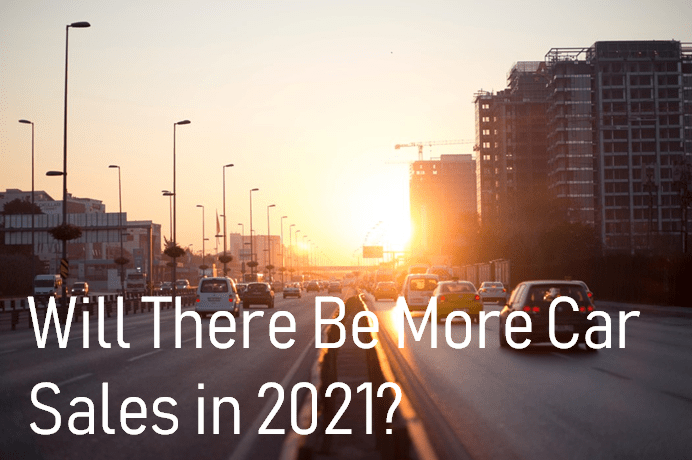 ---

---
By Tanim Ahmed, Head of Product at Datium Insights
Tanim is a Macquarie University alumni with degrees in Finance and Economics. He has spent a decade in the Leasing and Finance industry, specializing in Residual Value risk.
Please contact Datium Insights for further analytical support and advisory services.
Disclaimer: This is a general information service only and we do not provide advice or take into account your personal circumstances, financial situation or needs. Please seek professional advice with regards to how any of the material on this website can impact your own financial situation. Datium Insights is not liable for any loss caused, whether due to negligence or otherwise arising from the use of, or reliance on, the information provided directly or indirectly, by use of this website.