As 2020 comes to a close, we review the effects of the Coronavirus pandemic on car sales, prices and supply while predicting what's in store in 2021.
---
---
Contents
Background
New Car Sales in 2020
Used Car Market in 2020
Effects of the Pandemic over time
2021 Outlook for Car Sales
---
Background
There's no doubt that the Coronavirus pandemic will ensure 2020 will be remembered for generations to come.
As of December, there's been 63 million cases and over 1.4 million deaths.
The impact of COVID on health, employment, communication, travel, politics, technology and finance has been unprecedented in modern times.
We've seen international travel plummet 65% while millions of people began working from home.
Countries have seen their health systems come close to collapse while politicians debate basic health protections.
On an economic front, an escalation in trade wars and government debt contrasts with record highs on share markets.
It seems all aspects of life have been changed.
And the automotive industry is no exception.
Throughout 2020 we've seen car factories close across the world.
As the pandemic rages on in Europe and the US, supply chains have been extensively disrupted.
Recently, Isuzu Ute production was suspended after a European parts supplier shut down due to COVID-19.
Renault halted production in South Korea to better manage inventory due to the pandemic.
Jaguar Land Rover still has 3,000 workers furloughed and a key factory running at only a fraction of capacity.
Compared to car production in 2019 :
Japan is down 23%
South Korea is down 12%
Germany is down 33%
The UK is down 34%
The US is down24%
China is down 6%
Globally, production is down ~23% , equating to over 15 million less vehicles than 2019.
The global economy has also seen a downturn, with large swathes of the world falling into recession.
According to the World Bank, over 90% of countries fell into recession at some stage in 2020. This is more than the previous high of 83% during the Great Depression.
As a result, many countries have experienced record unemployment figures as well as reduced consumer spending on goods and services.
The World Trade Organisation forecasts a 9.2% decline in the volume of world merchandise trade for 2020.
New Car Sales in 2020
Due to a number of factors, new car sales across the world have been hard hit.
Factory closures have caused supply across the world to decrease dramatically.
Disruption to cargo shipments has compounded this affect for countries, like Australia, that import the majority of their car fleet.
Restrictions on travel and economic uncertainty has greatly reduced demand.
Despite COVID cases reducing in much of the world and travel restrictions gradually being relaxed, sales are still way down this year.
As of October:
The US is down 17%
Canada is down 25%
The UK is down 31%
Germany is down 23%
France is down 26%
Spain is down 36%
Italy is down 30%
Japan is down 15%
Australia is down 19%
New Zealand is down 23%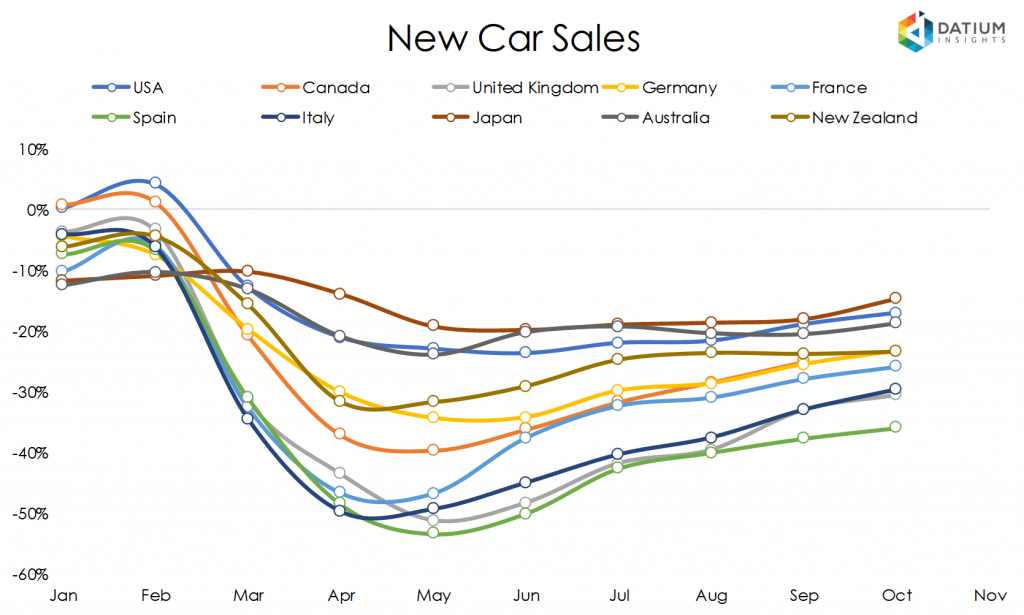 Used Car Market in 2020
After some initial volatility, the used car market has experienced incredible strength in 2020.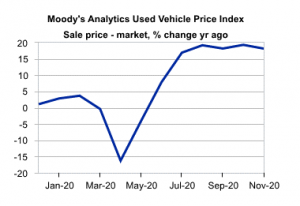 In April, much of the world went into lockdown. Businesses shutdown and consumer spending plummeted.
Consequently, April saw one of the largest downturns in used car prices.
However, post-April, car production saw severe disruption and new car sales dried up.
This caused greater focus on the the used car market as consumers sought out used cars instead, increasing demand.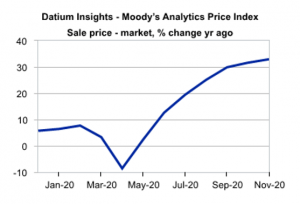 Since April, prices have never been higher.
According to Moody's Analytics, US prices have now increased by nearly 35% from their low in April.
In Australia, our own Datium Insights-Moody's Analytics Price Index shows a similar story. Prices have increased by 40% since their April low.
With new car sales recovering slowly, supply of used cars will be low in the next few years.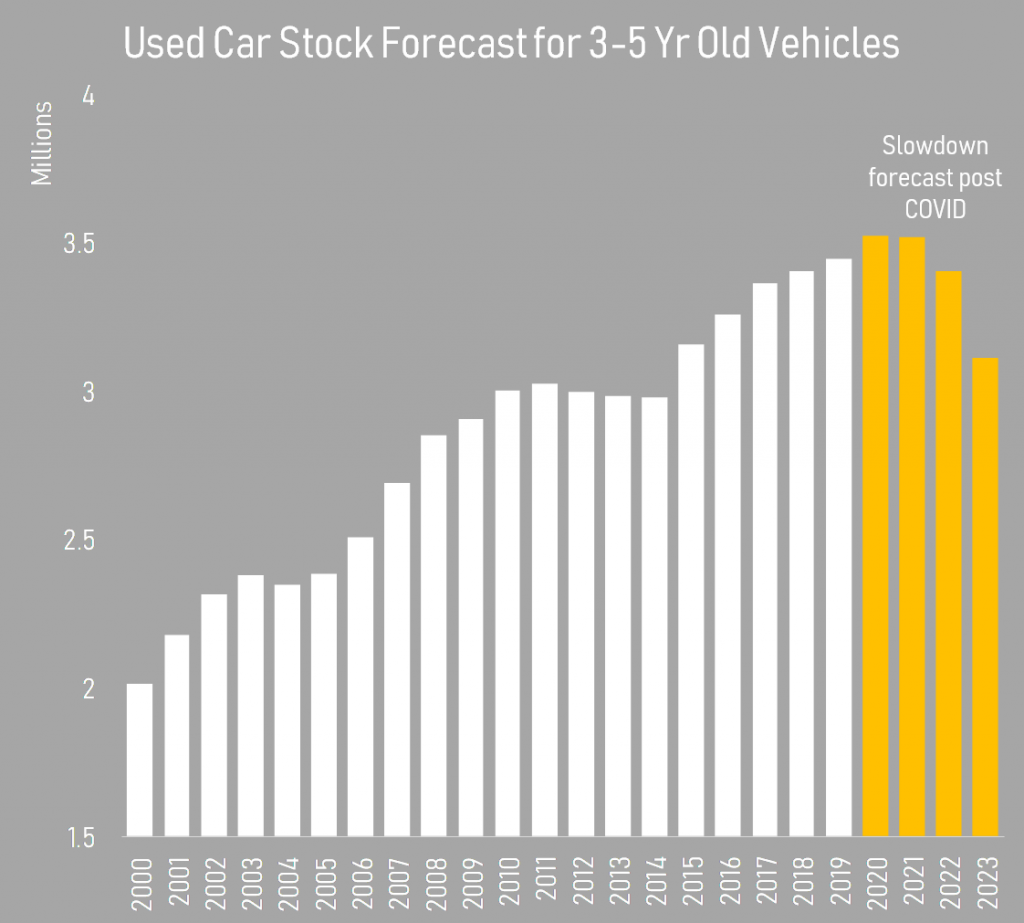 Demand for cars in general however should be strong for some time.
Data from Apple shows how public transport usage has declined significantly through the pandemic.
Safety concerns on public transit has caused workers to work from home or use a private car for transport.
This change in societal behavior is likely to remain for some time, even after the pandemic subsides.
As a result, it's likely that strong used car prices will remain for some time yet.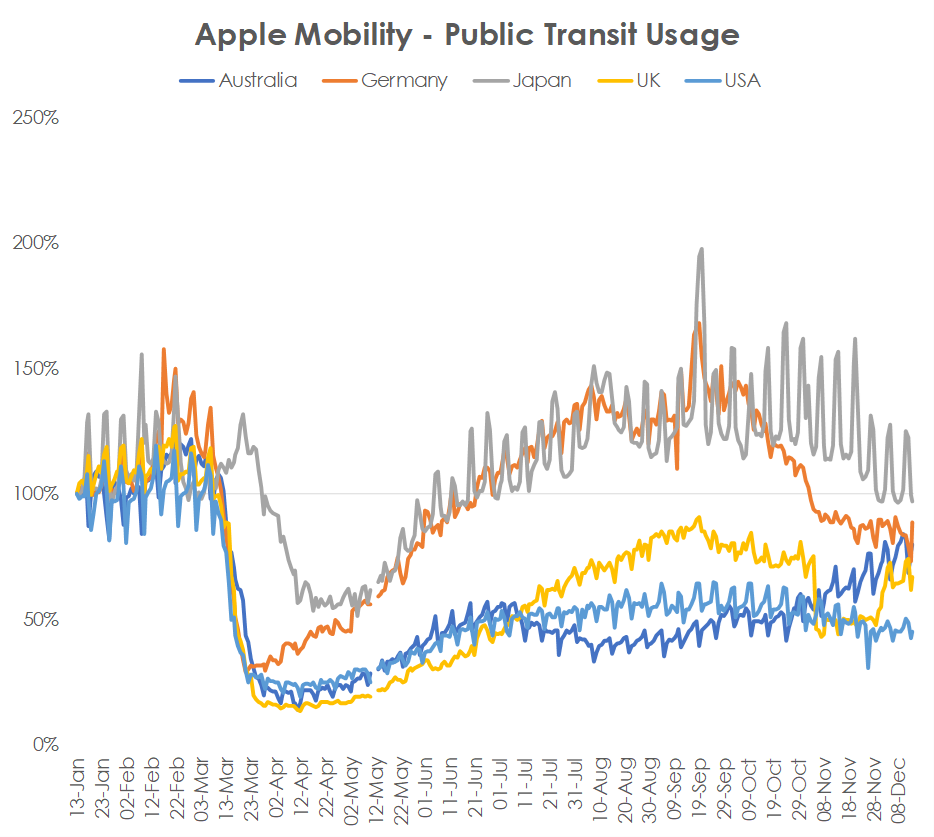 Effects of the Pandemic over time
Our article from the onset of the pandemic, "What the Coronavirus means for car sales", presented a timeline of how car sales may be affected.
This timeline was broken up into 3 phases.
With phase 1 nearly done and phase 2 about to begin, we present these again to review how these predictions have played out.
Phase 1 – Short term, 0-12 months
Some of the outcomes may include:
similar to Italy, South Korea and China a significant proportion of the population becomes infected. Certainly in many countries this has come true
quarantine, social distancing measures and worsening health conditions drastically reduce consumer spending and economic productivity. While this definitely occurred, there has been a strong bounce back in much of the world
demand for cars drops to people who need to buy out of necessity. We saw this play out across April to June
restrictions on trade movements and reduced productivity causes severe disruption of supply lines creating shortage of stock. This is still ongoing
severe drop in new and used car sales. This is also still ongoing
global recession causes bankruptcies and reduced business investment. While most of the world has experienced recession, we have yet to see economic destruction on par with the GFC
dealer network potentially shrinks. Similar to the above, we have yet to see this occur
prices drop for used cars. April saw one of the largest falls ever, but prices have roared back to reach historic highs
Phase 2 – Medium term, 12-36 months
Some of the outcomes may include:
new infections gradually tail off. With the vaccine on its way, this prediction is likely to eventuate in 2021
quarantine and social distancing measures gradually relaxed. While this has been up and down this year, we should see more consistent relaxation in 2021
recovery in car sales ensues, however continuing uncertainty about the economy creates volatility. So far banks have been reluctant to repossess while governments have been generous with welfare stimulus. In 2021 we expect greater economic volatility as government stimulus is wound back and normal trading conditions resume
economic recession causes rise in unemployment. We've already seen this in 2020, however structural changes will become more apparent next year
reduced consumer spending limits new car sales. If we see economic volatility next year, the ongoing new car sales slump is likely to continue
demand shifts to used cars as a cheaper alternative. This has already occurred, with consumers using cheap cars for domestic travel and work transport
reduced stock entering used car market due to falling new car sales and lowered motor vehicle production. As we described above, this is all but certain
used car market potentially shrinks causing prices to rise and stabilise. Based on our analysis, we still expect this to occur
Phase 3 – Long term, 36 months onward
Some of the outcomes may include:
Coronavirus becomes a regular occurrence, like influenza. With a vaccine on the way, the chances of this are dimming. However, with any new disease, it's never certain how it will evolve
While quarantine and social distancing measures are removed, societal behaviors towards personal hygiene, transportation, social engagements remain. Numerous studies support permanent changes in societal behaviors
economy recovers from recession, unemployment gradually drops. Based on current environment, this might occur quicker than we envisioned
consumer spending increases, bringing with it increasing new car sales albeit at lower rate of growth. Similar to the above, new car sales may recover quicker than originally thought
demand returns to a balance between new cars and used cars. Our analysis suggests this will likely take ~3 years as originally predicted. With supply disruptions and changing transport behavior, it will take time for the market to regain an equilibrium
2021 Outlook for Car Sales
With all that's happened this year, there is one certainty: 2021 will see more car sales than 2020.
Car sales this year have reduced by historic margins, due to a number of factors. These include production and logistical disruptions, economic uncertainty, lower consumer spending and changing transport behaviors.
While 2021 will definitely see more car sales, it's unlikely we'll see the level of sales of prior years for some time.
For businesses involved in the automotive industry, it will be imperative to form a plan in supporting this prolonged recovery.
The pandemic has likely made permanent changes to consumers' interaction with cars.
Businesses that position themselves to take advantage of these changes will see greater success in the future.
---
By Tanim Ahmed, Head of Product at Datium Insights
Tanim is a Macquarie University alumni with degrees in Finance and Economics. He has spent a decade in the Leasing and Finance industry, specializing in Residual Value risk.
Please contact Datium Insights for further analytical support and advisory services.
Sources: http://jamaserv.jama.or.jp, http://www.kama.or.kr, https://www.vda.de, https://www.smmt.co.uk, https://fred.stlouisfed.org, https://www.abs.gov.au, https://www.worldbank.org/, https://www150.statcan.gc.ca, https://www.acea.be, https://www.fcai.com.au, https://www.mia.org.nz, https://www.economy.com/, https://covid19.apple.com/mobility
Disclaimer: This is a general information service only and we do not provide advice or take into account your personal circumstances, financial situation or needs. Please seek professional advice with regards to how any of the material on this website can impact your own financial situation. Datium Insights is not liable for any loss caused, whether due to negligence or otherwise arising from the use of, or reliance on, the information provided directly or indirectly, by use of this website.