Read our monthly update on global car production, new car sales in key markets, export levels and imports into Australia.
---
---
Global Car Production
Manufacturers around the world are facing production bottle necks due to a shortage of semiconductors. Some forecasts expect a 10-20% fall in production from February
Apple and Hyundai are engaging in a partnership towards autonomous electric cars
Globally, production is down significantly in all major manufacturing bases
Japan is down 20% through October
South Korean is down 11% through November
The US is down 23% through November
Germany is down 26% through November
The UK is down 31% through November
China is only down 4% through November
---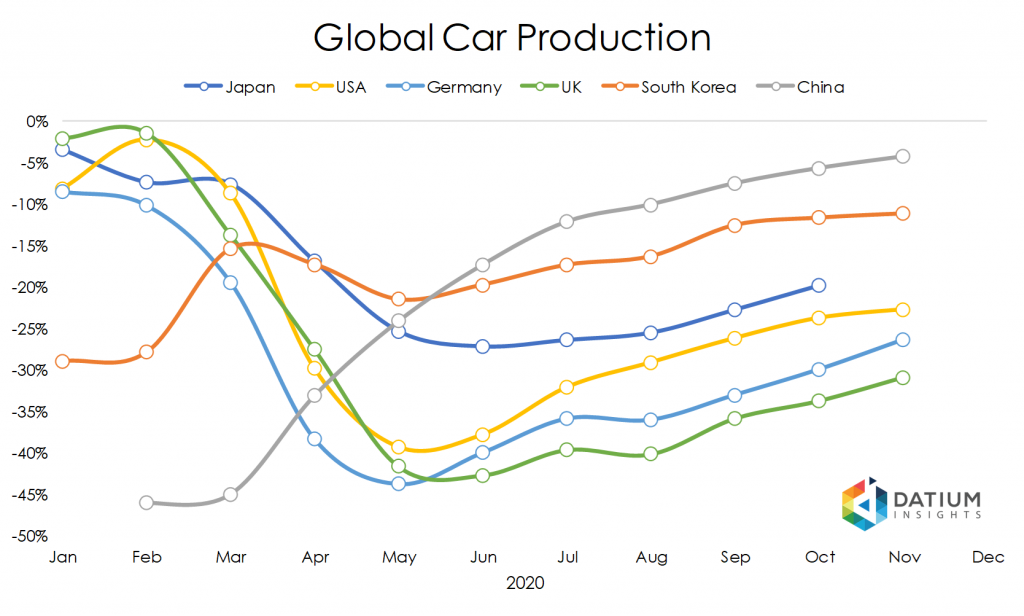 ---
New Car Sales
With global supply chains hampered and a drop in demand, new car sales have been sluggish to recover losses in early 2020
In North America, the US is down 17% through November, while Canada is down 23% and Mexico 30%
In Europe, Germany has fared the best having seen a smaller decline in April-May while also recovering to be only down 22%
Spain is down 34% after seeing a spike in Coronavirus infections in late 2020 that hampered output
France and Italy are down 26% and 28% respectively
In the Asia Pacific region, nations have generally fared better
Australia ended the year down only 14% while Japan was slightly better at 12%
Through November, New Zealand is still down 23%
Meanwhile, South Korea has bucked the trend and improved sales by 6%
---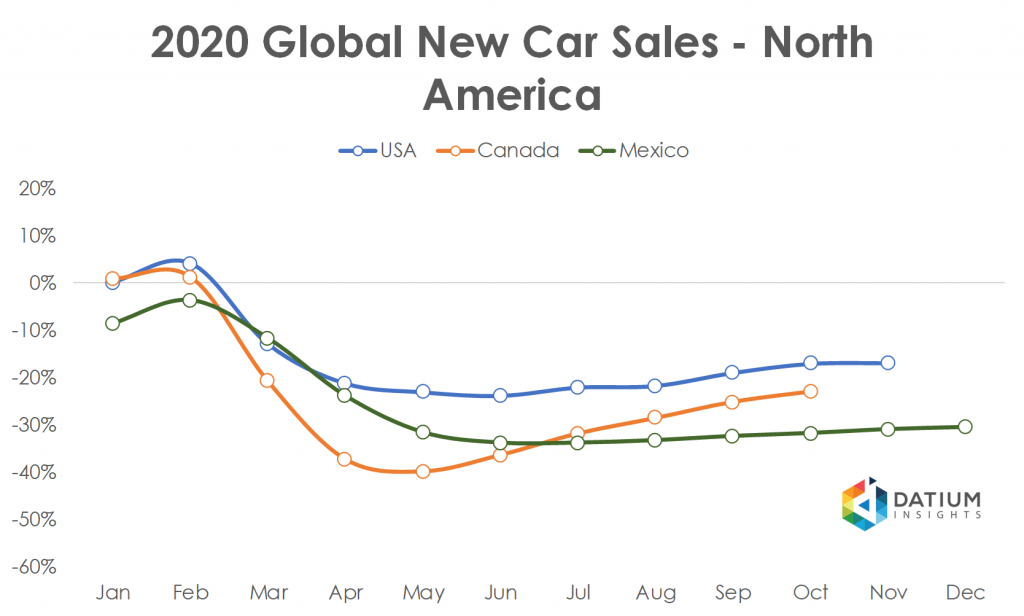 ---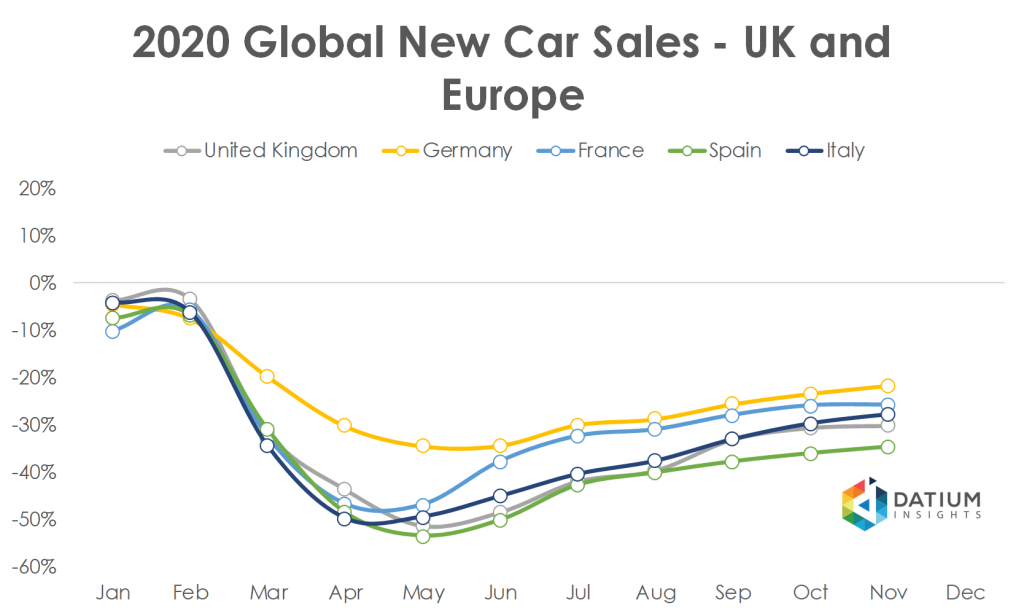 ---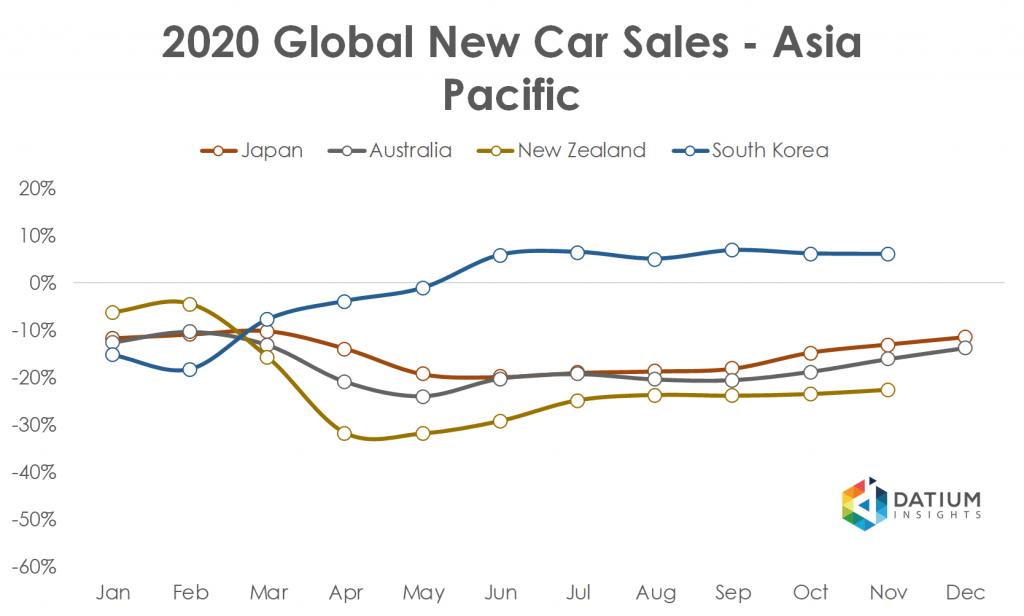 ---
Car Imports into Australia
Car Imports increased again in November 2020, recording a figure of $3.661 billion according to latest ABS figures
This represents an increase of $1.05 billion (+40%) compared to November 2019
The cumulative total for 2020 shows imports are now down $4.6 billion compared to 2019
Stock supply entering Australia seems to be increasing significantly to make up for losses earlier in 2020
Greater stock availability helped new car sales increase 14% in December 2020, see our latest VFACTS report for insights
---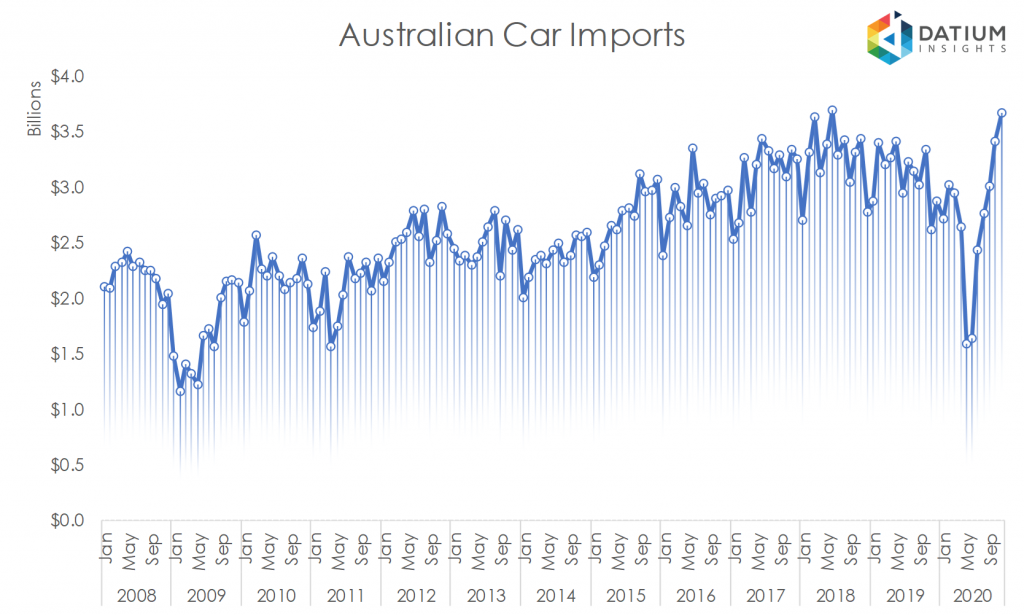 ---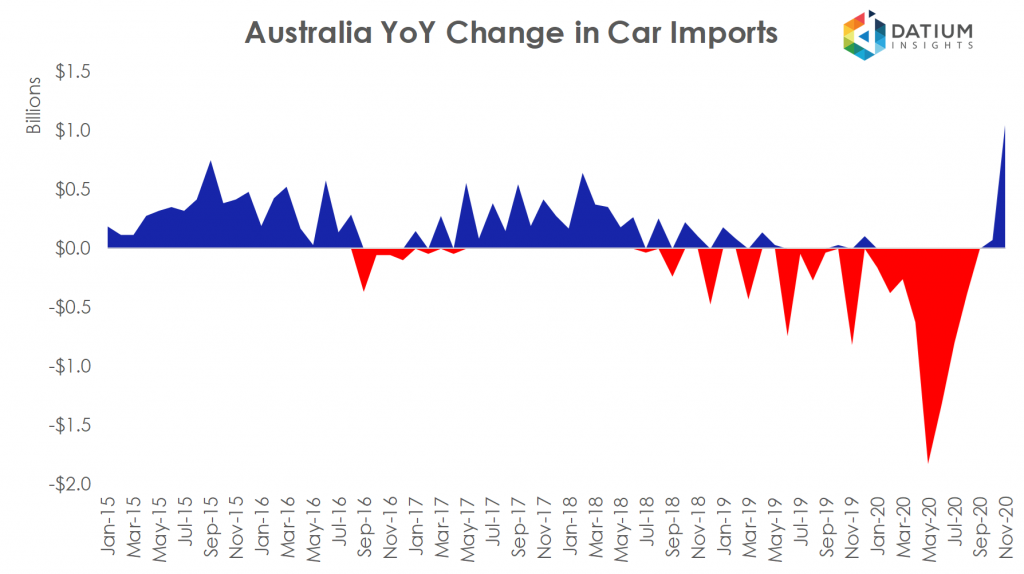 ---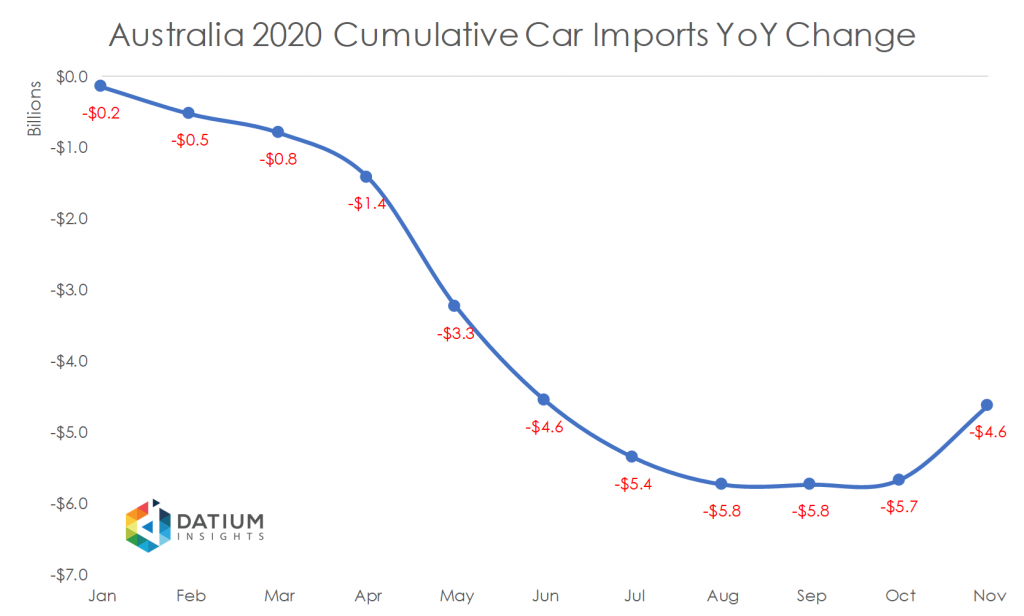 ---
International Car Exports
The latest government figures show the following changes in car export volume from the large car manufacturing nations:
South Korea is down 16% so far through November 2020 compared to 2019
Japan is down 24% so far through November 2020 compared to 2019
The United Kingdom is down 30% so far through October 2020 compared to 2019
Germany is down 26% so far through November 2020 compared to 2019
The United States is down 32% so far through October 2020 compared to 2019
With car production and exports from international markets still significantly low, imports into Australia are likely to remain volatile for sometime.
New car sales in large international markets are also still low and with Australia further down the priority chain for car manufacturers, it's likely that new car supply into Australia will struggle for the next few months.
---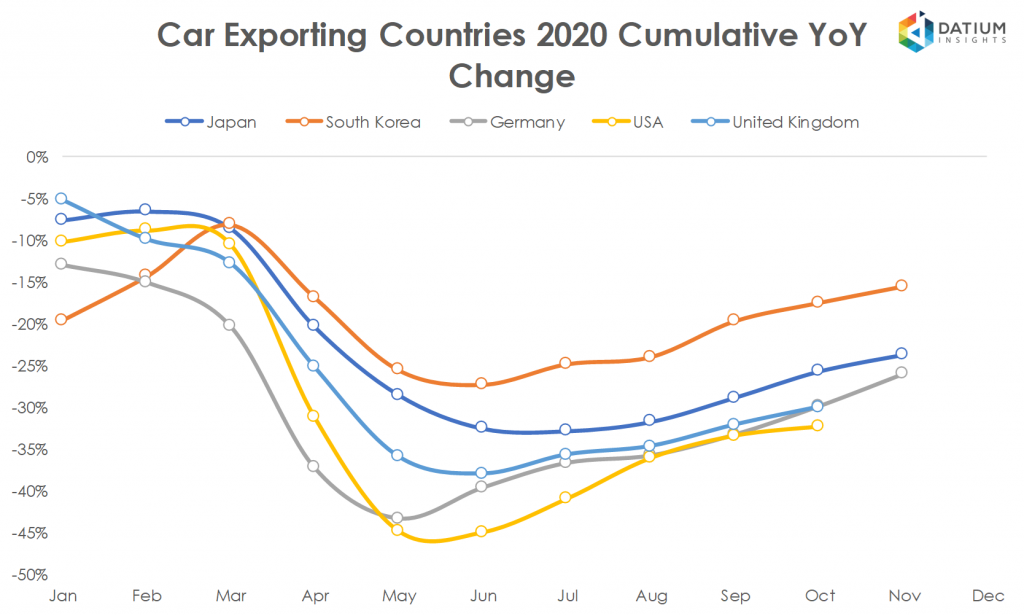 ---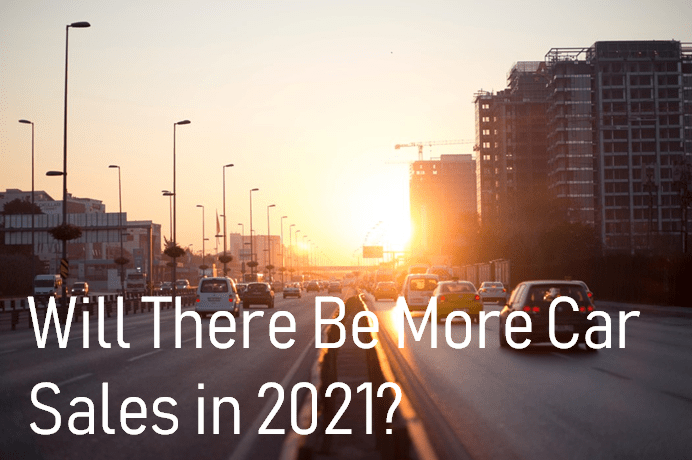 ---

---
By Tanim Ahmed, Head of Product at Datium Insights
Tanim is a Macquarie University alumni with degrees in Finance and Economics. He has spent a decade in the Leasing and Finance industry, specializing in Residual Value risk.
Please contact Datium Insights for further analytical support and advisory services.
Disclaimer: This is a general information service only and we do not provide advice or take into account your personal circumstances, financial situation or needs. Please seek professional advice with regards to how any of the material on this website can impact your own financial situation. Datium Insights is not liable for any loss caused, whether due to negligence or otherwise arising from the use of, or reliance on, the information provided directly or indirectly, by use of this website.