Read our monthly update on VFACTS new car sales results.
---
---
New Car Sales January 2022
2022 has started off slow, with January seeing 75,863 new car sales for Australia as reported by VFACTS
This is down 5% versus January 2021
Our 'Rolling 12 Month Change' tracker signals a downward trend in sales – the last 12 months has recorded 2% less sales compared to the pre-COVID benchmark year 2019
Electric vehicle sales rocketed in January 2022, seeing an increase of 109%, with PHEV sales also soaring (+94%)
Petrol vehicle sales declined significantly (-12%)
All states except Tasmania recorded lower sales compared to January 2021 with NT (-13%), NSW (-10%) and ACT (-10%) leading declines
---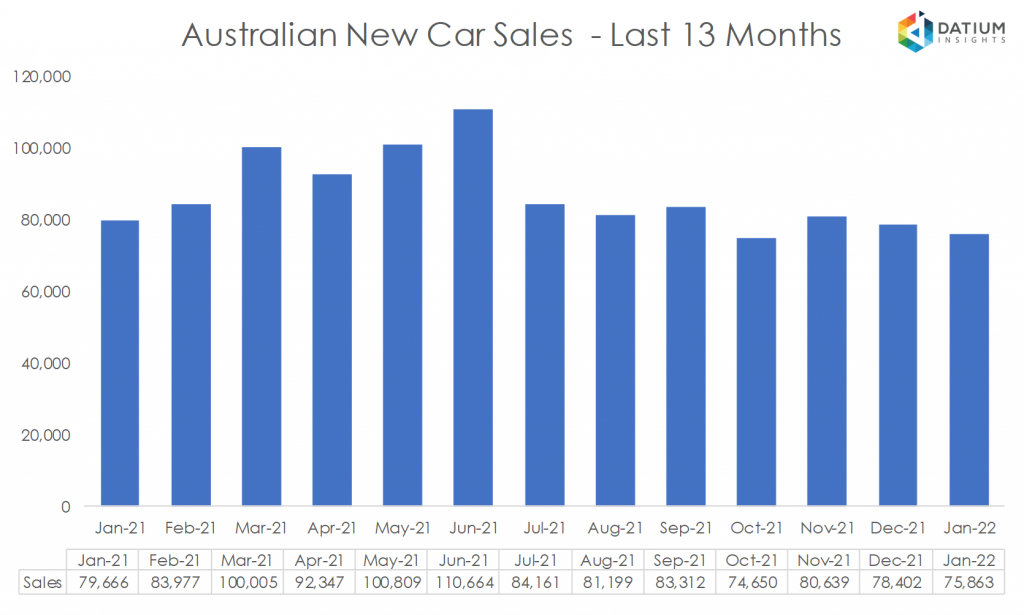 ---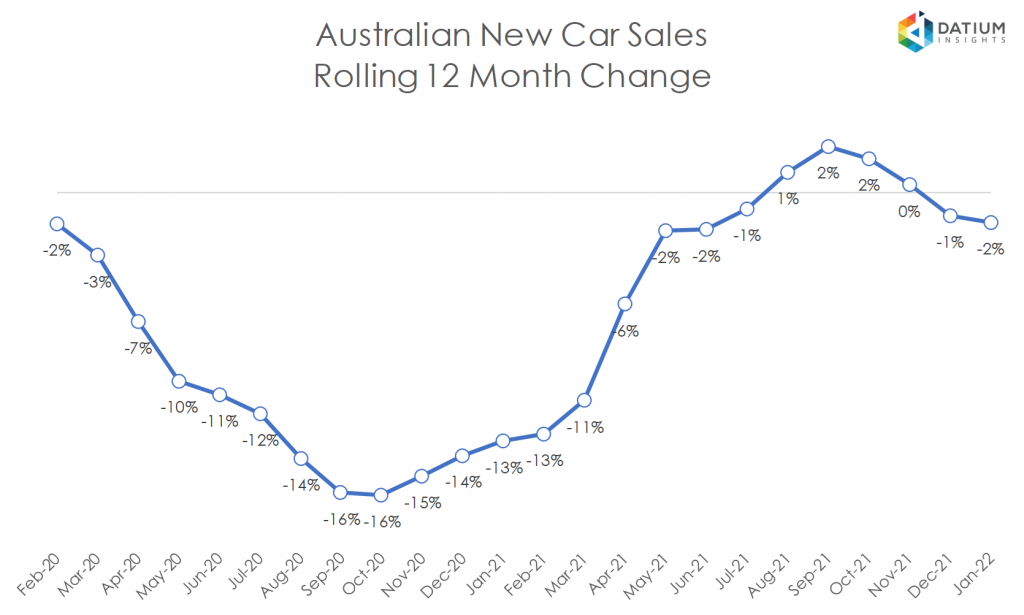 ---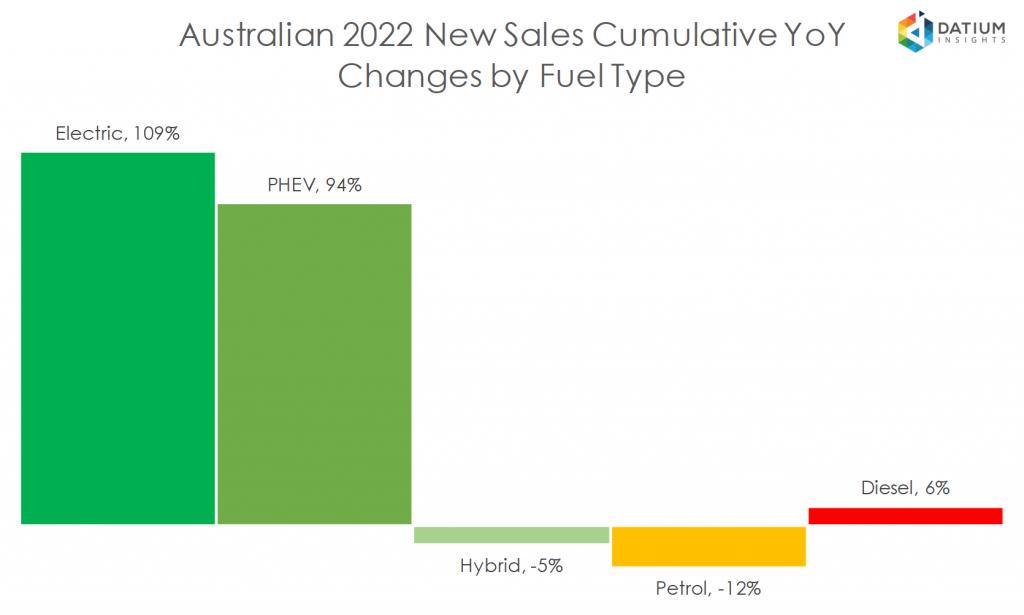 ---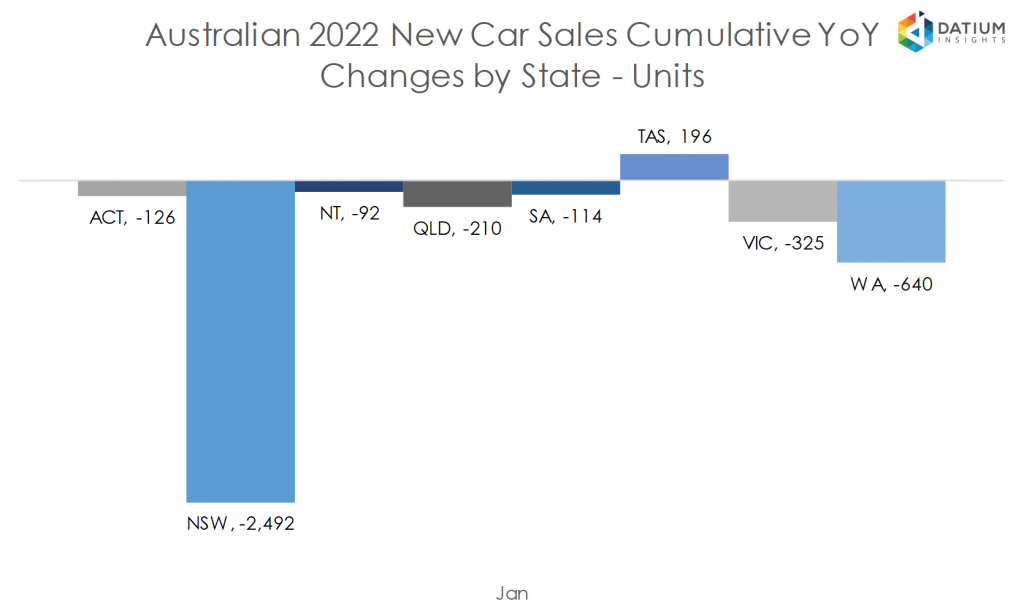 ---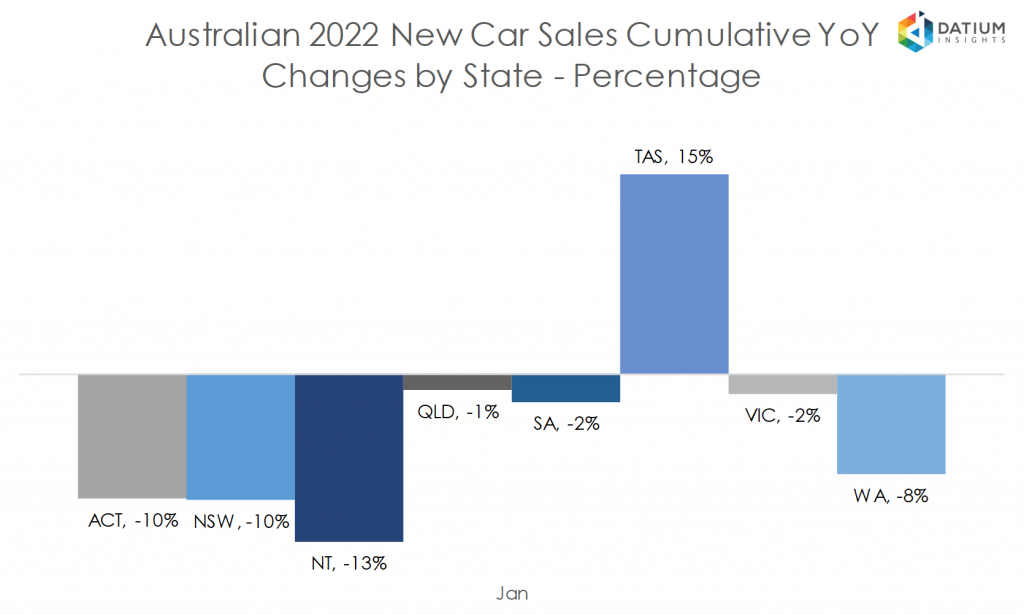 ---
New Car Sales Trends
The top 5 models with the greatest increases so far in 2022 are:
Toyota Prado (+1,207 units)
Mazda CX-5 (+1,132 units)
Mitsubishi Triton 4X4 (+881 units)
MG MG3 (+692 units)
GWM Haval Jolion (+524 units)
The bottom 5 models with the greatest decreases so far in 2022 are:
Toyota RAV4 (-1,641 units)
Toyota Landcruiser Wagon (-769 units)
Nissan Qashqai (-722 units)
Nissan X-Trail (-693 units)
Toyota Corolla (-620 units)
The top segment increases so far in 2022 compared to 2021 are:
Light Buses < 20 Seats (+68%)
Upper Large > $100K (+59%)
Micro (+31%)
Medium < $60K (+19%)
SUV Medium > $60K (+19%)
Conversely, some of the largest decreases are:
Vans/CC <= 2.5t (-59%)
Upper Large < $100K (-55%)
Light > $25K (-52%)
SUV Upper Large < $100K (-51%)
Small > $40K (-45%)
Some other highlights so far:
After a strong showing in 2021, Toyota has seen sales decline with the Toyota RAV4, Toyota Landcruiser Wagon and Toyota Corolla seeing a reduction in sales compared to this time last year
With supply chain disruptions, Japanese manufacturers are facing headwinds in delivering volume onshore
Chinese brands MG and GWM continue strong sales growth, with the MG3 and Haval Jolion models contributing to a positive start
Passenger vehicles have gone backwards in January 2022 (-15%), with Small (-29%) and Large (-34%) segments seeing significant dropoffs
The rental market continues to see strong growth, up 12% compared to January 2021
With Business sales declining (-12%), Private sales now make up 56% of all sales in the market due to dealers gaining higher margins on these types of sales
---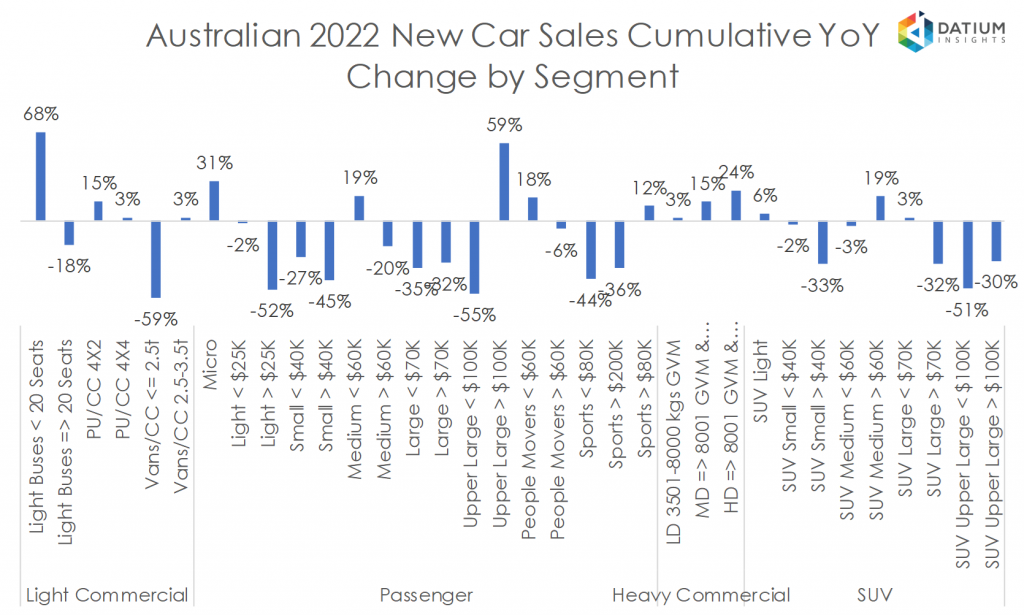 ---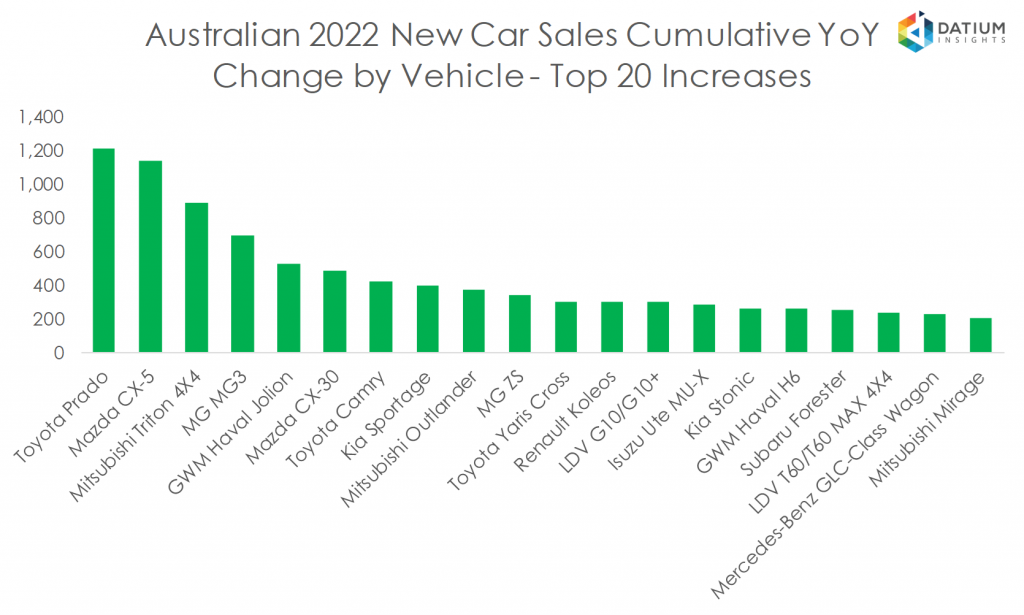 ---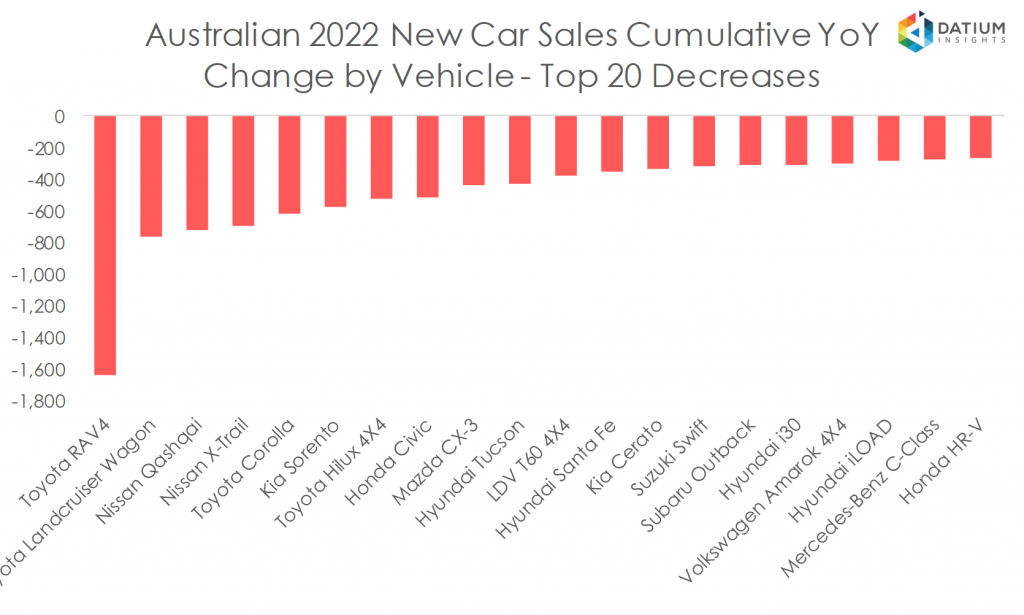 ---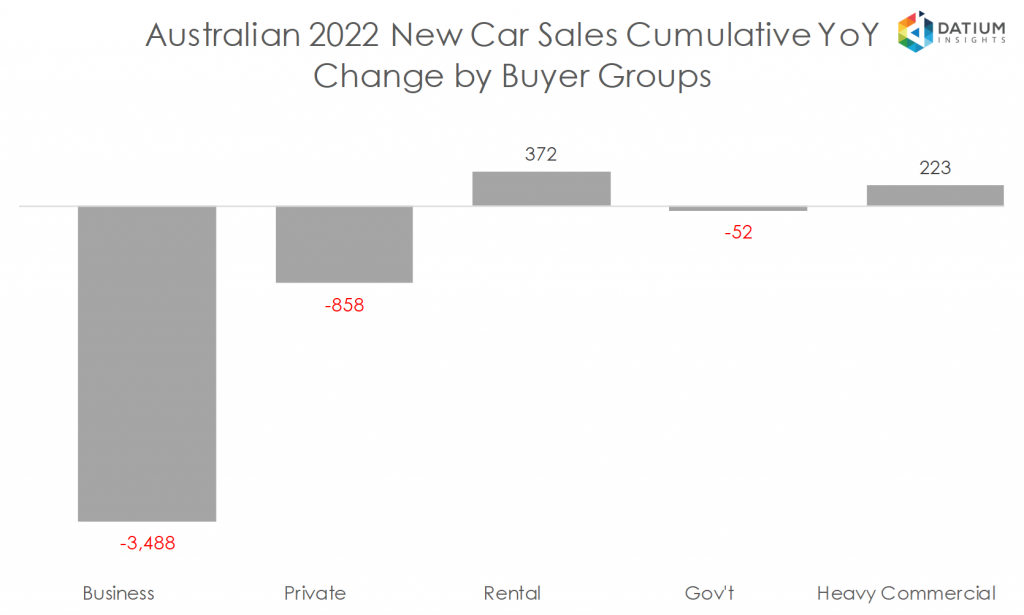 ---
Sales by Import Country
Sales of imported vehicles from China continue to skyrocket in 2022 with an increase of 2,066 compared to 2021
Sales of imported vehicles from Japan saw the largest decline so far, down 1,747 units largely owing to Toyota
---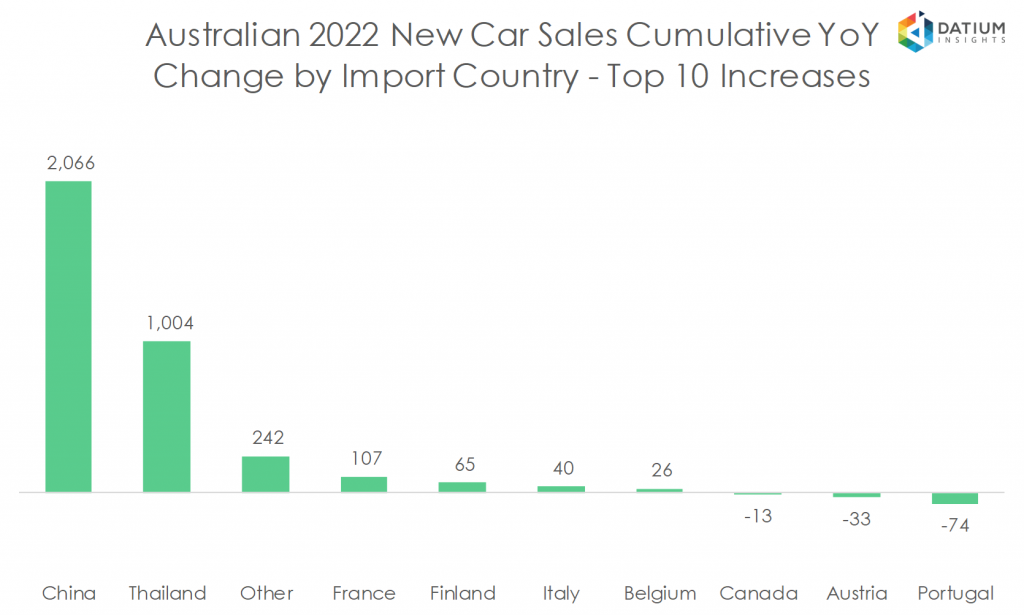 ---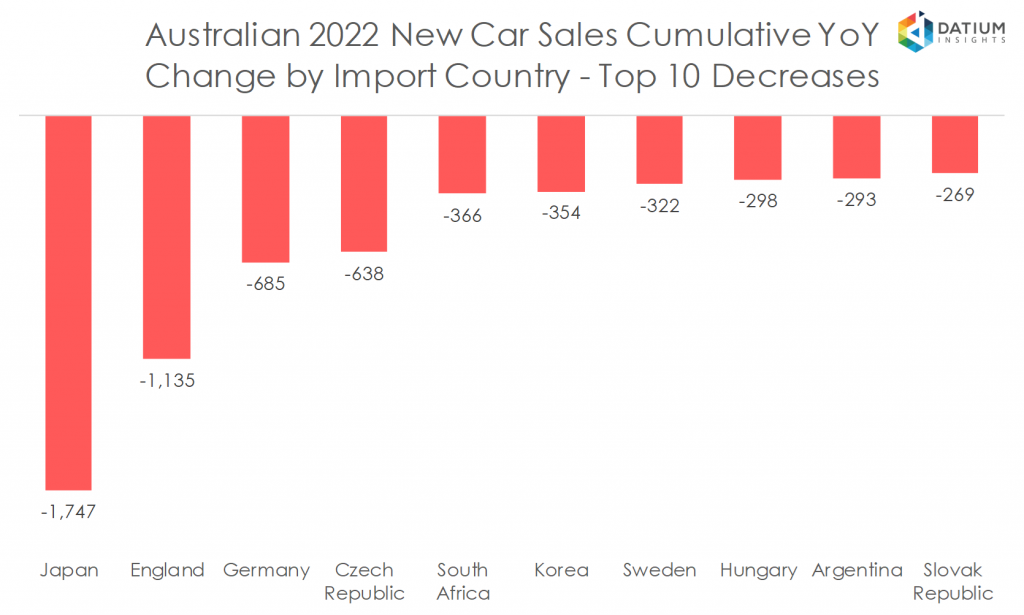 ---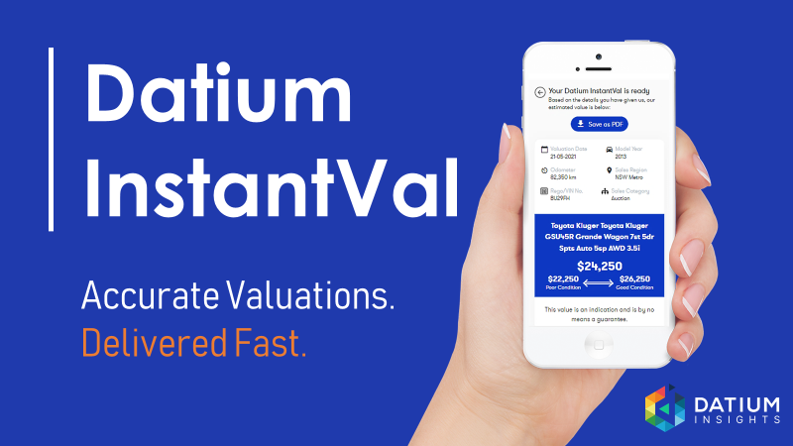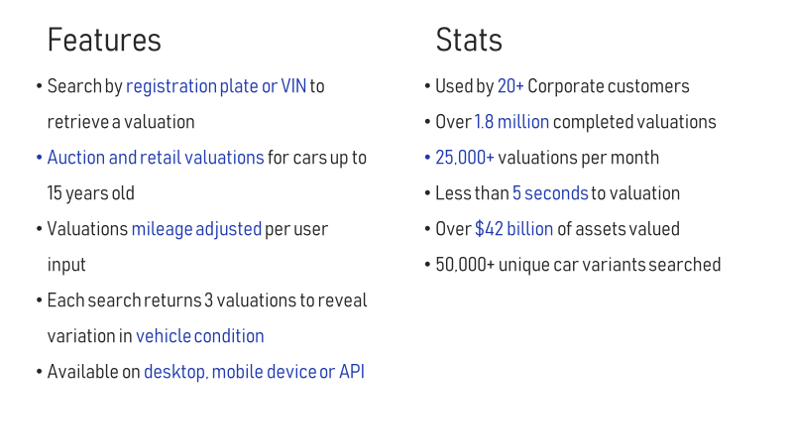 ---
By Tanim Ahmed, Head of Product at Datium Insights
Tanim is a Macquarie University alumni with degrees in Finance and Economics. He has spent a decade in the Leasing and Finance industry, specializing in Residual Value risk.
Please contact Datium Insights for further analytical support and advisory services.
Disclaimer: This is a general information service only and we do not provide advice or take into account your personal circumstances, financial situation or needs. Please seek professional advice with regards to how any of the material on this website can impact your own financial situation. Datium Insights is not liable for any loss caused, whether due to negligence or otherwise arising from the use of, or reliance on, the information provided directly or indirectly, by use of this website.