Read our monthly update on VFACTS new car sales results.
---
---
New Car Sales February 2022
February 2022 saw a total figure of 85,340 new car sales for Australia as reported by VFACTS
Figures show new car sales were up 2% in February 2022 versus February 2021
Sales between states were mixed with NSW seeing a 3% decline compared to February 2021 while Victoria saw a strong 5% increase
Electric vehicle sales continue to skyrocket in February 2022, seeing a cumulative increase of 119% so far this year compared to last
Conversely, petrol vehicle continued their sales decline (-12%)
---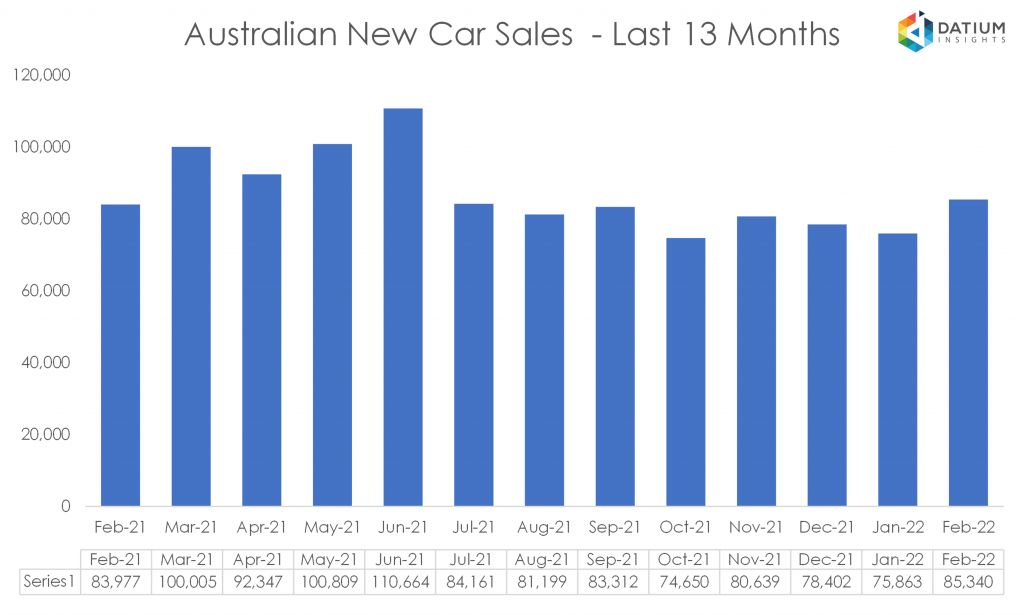 ---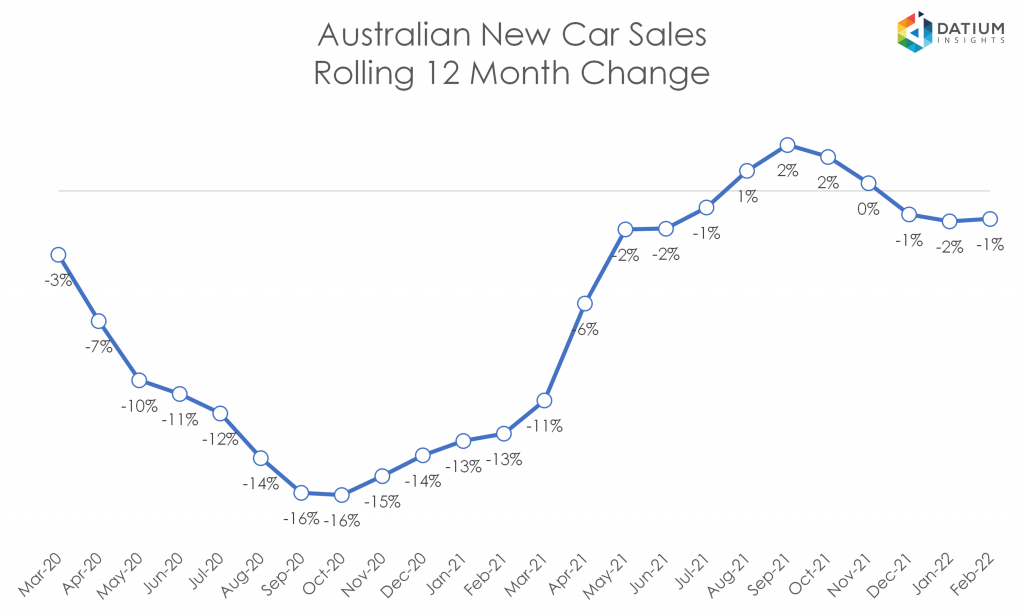 ---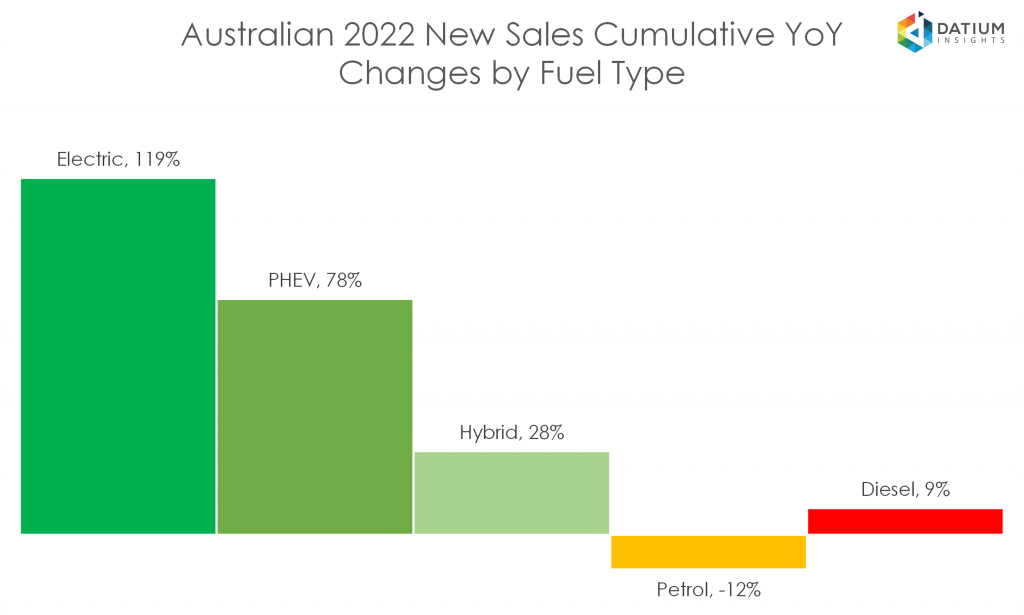 ---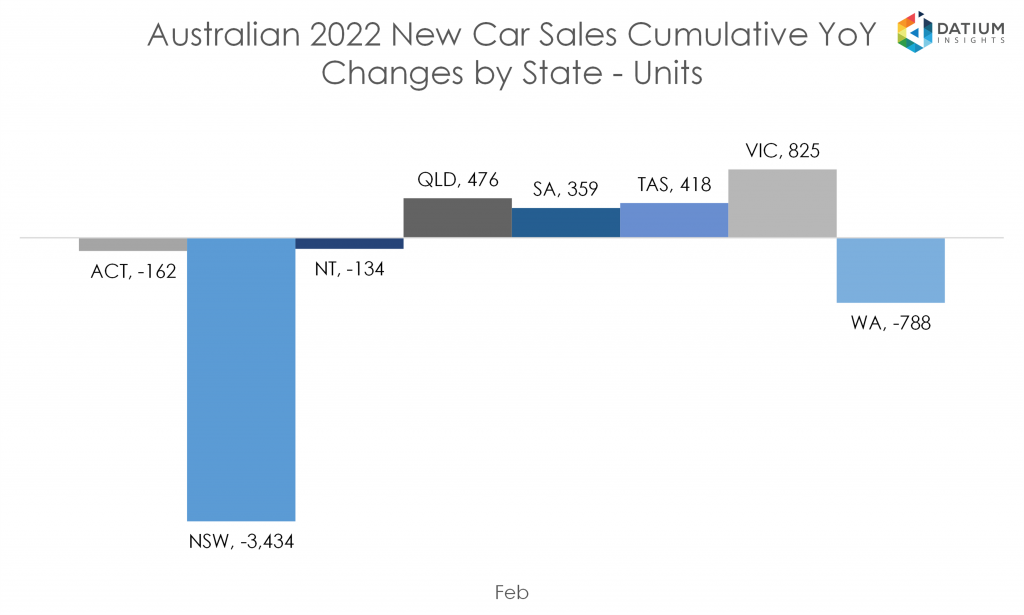 ---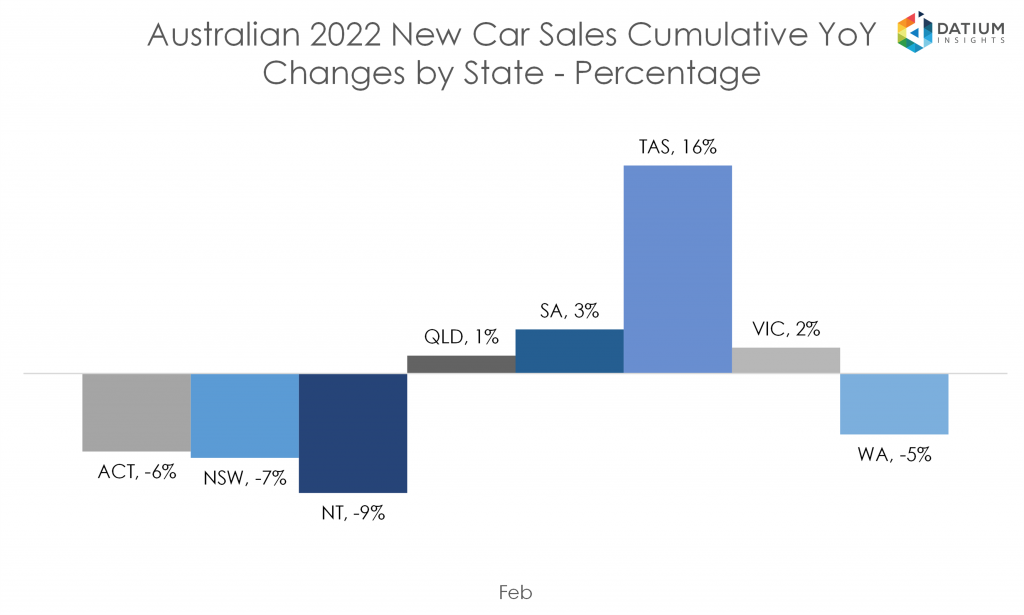 ---
New Car Sales Trends
The top 5 models with the greatest increases so far in 2022 are:
Mitsubishi Triton 4X4 (+2,782 units)
Toyota Prado (+2,578 units)
Mazda CX-30 (+1,419 units)
MG ZS (+986 units)
Kia Sportage (+971 units )
The bottom 5 models with the greatest decreases so far in 2022 are:
Nissan Qashqai (-1,747 units)
Toyota Landcruiser Wagon (-1,483 units)
Toyota Corolla (-1,376 units)
Nissan X-Trail (-1,229 units)
Mitsubishi ASX (-893 units)
The top segment increases so far in 2022 compared to 2021 are:
Light Buses < 20 Seats (+39%)
Medium < $60K(+22%)
SUV Light (+15%)
Large < $70K (+13%)
PU/CC 4X2 (+13%)
Conversely, some of the largest decreases are:
Small > $40K (-50%)
Upper Large < $100K (-47%)
Large > $70K (-39%)
SUV Upper Large < $100K (-37%)
SUV Upper Large > $100K (-35%)
---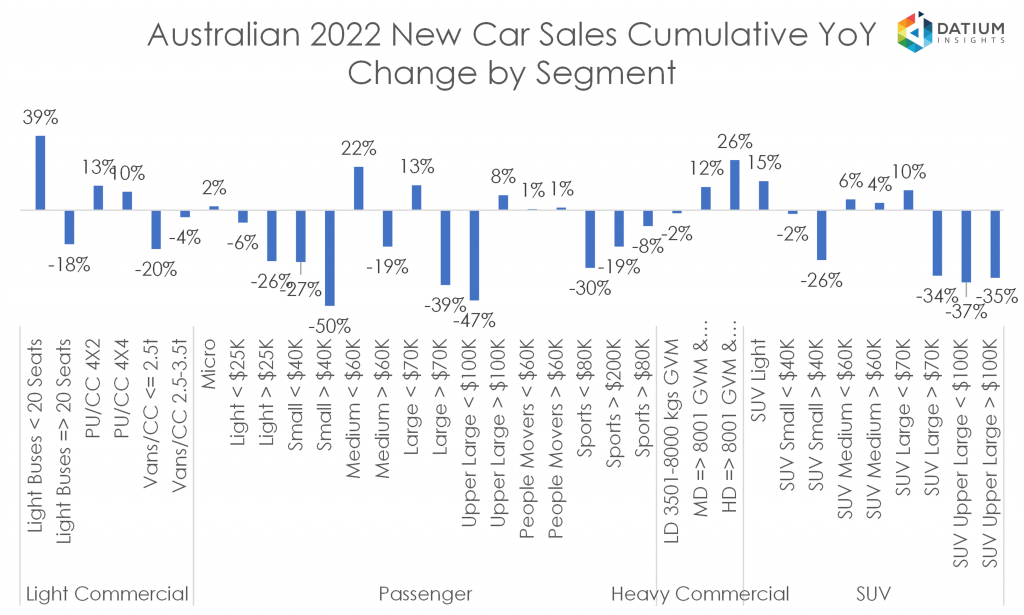 ---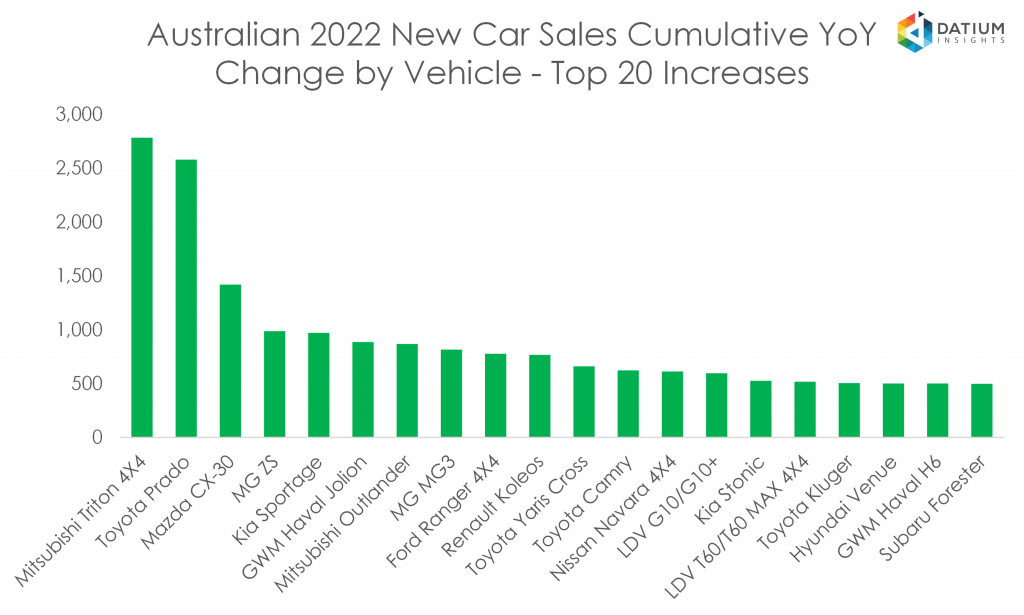 ---
---
---
Sales by Import Country
Sales of imported vehicles from Thailand have made a strong showing in February 2022 with an increase of 4,632 compared to 2021
Sales of imported vehicles from China continue to skyrocket with an increase of 3,410 compared to 2021
Sales of imported vehicles European continue to see declines with England seeing the largest decline so far, down 2,647 units
---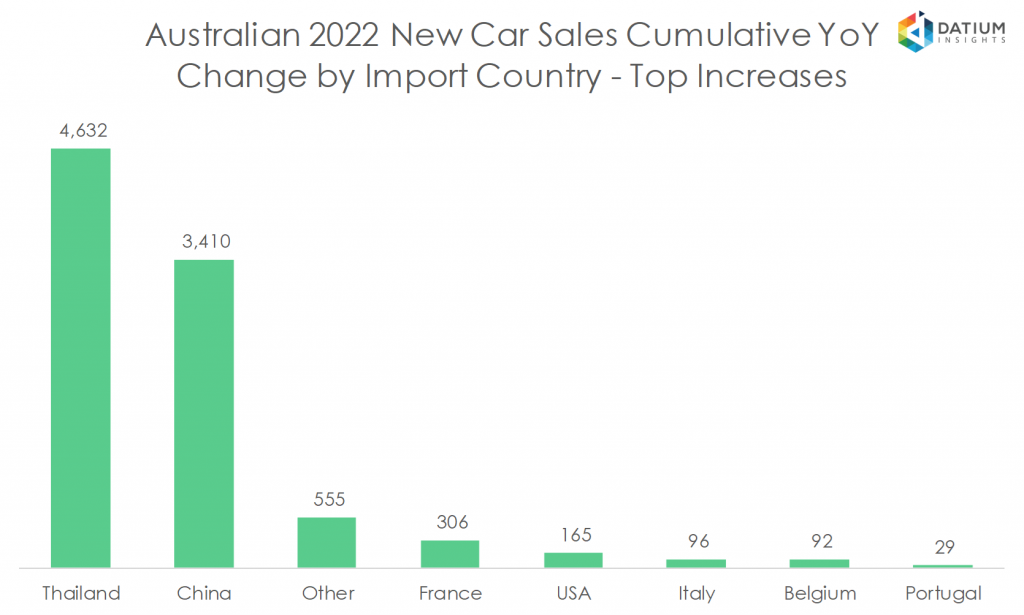 ---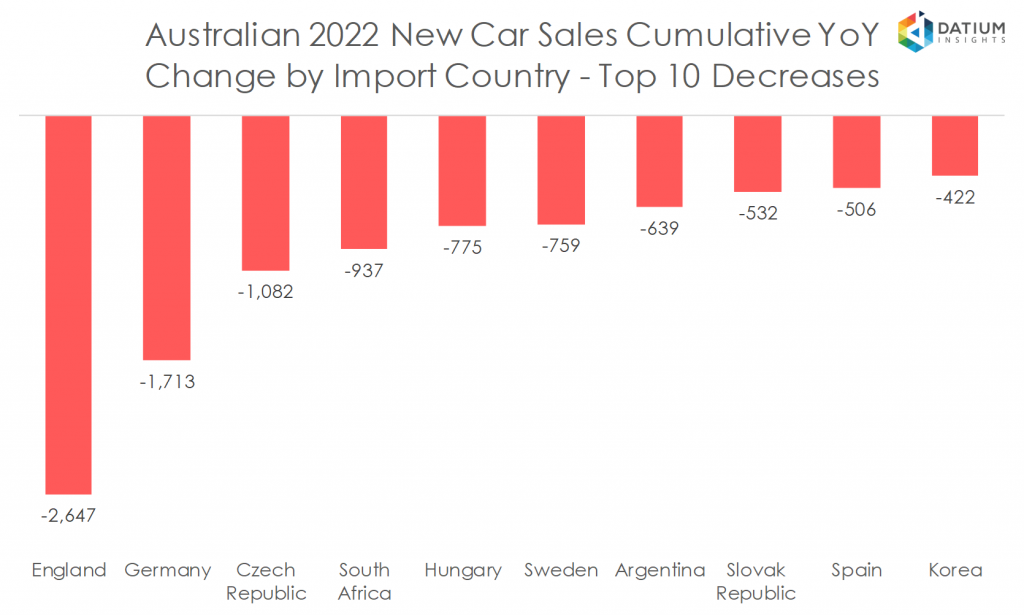 ---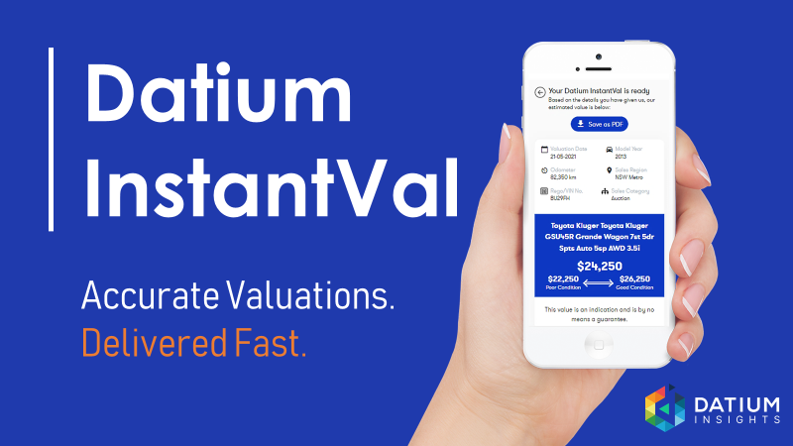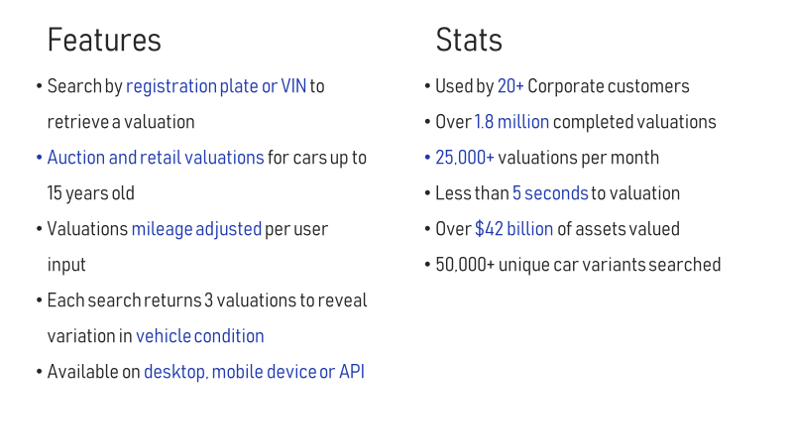 ---
By Tanim Ahmed, Head of Product at Datium Insights
Tanim is a Macquarie University alumni with degrees in Finance and Economics. He has spent a decade in the Leasing and Finance industry, specializing in Residual Value risk.
Please contact Datium Insights for further analytical support and advisory services.
Disclaimer: This is a general information service only and we do not provide advice or take into account your personal circumstances, financial situation or needs. Please seek professional advice with regards to how any of the material on this website can impact your own financial situation. Datium Insights is not liable for any loss caused, whether due to negligence or otherwise arising from the use of, or reliance on, the information provided directly or indirectly, by use of this website.