International trade in cars has reduced dramatically due to the Coronavirus Pandemic.
Car Imports into Australia are down $3 billion in total compared to 2019.
---
---
Global Car Export Slowdown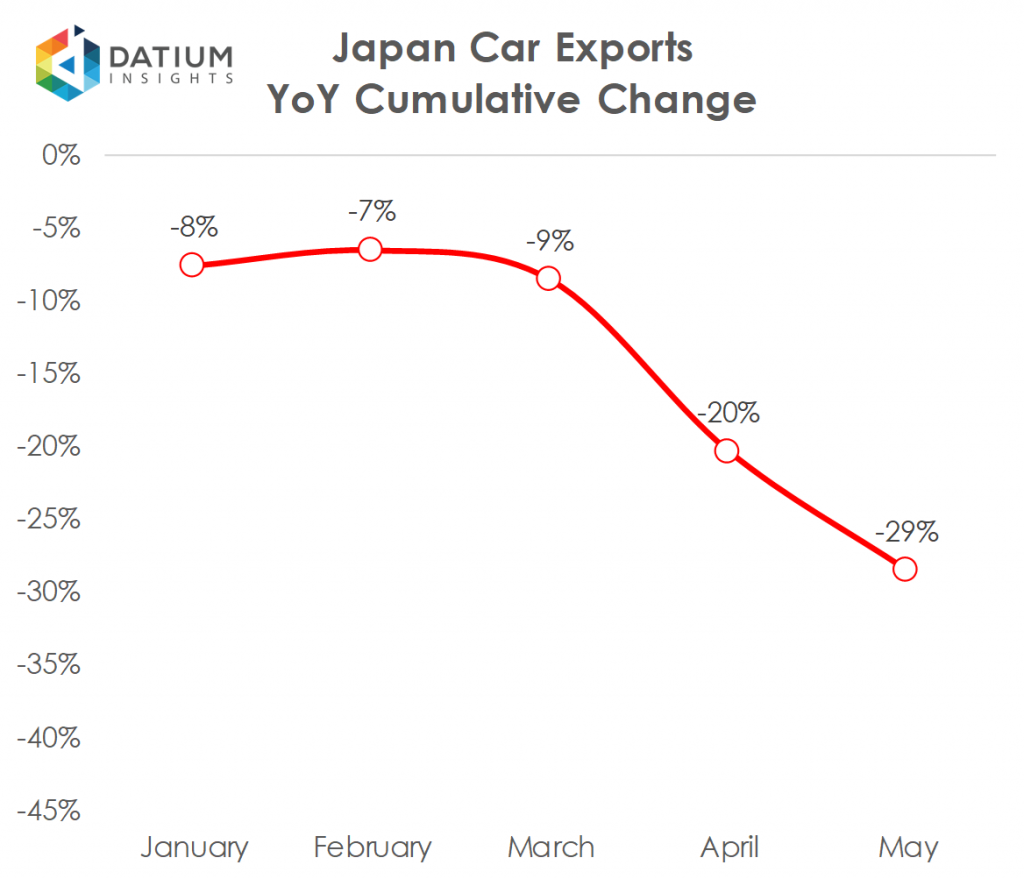 The countries with the largest car manufacturing industries are experiencing significant falls in car exports due to the fallout from the Coronavirus Pandemic.
Government data from South Korea, Germany, Japan, the UK and the US shows cumulative exports have reduced by 30-40% compared to 2019 volumes.
Through May, the US experienced the largest contraction at 42%.
With the highest confirmed cases of COVID-19, several US states with large manufacturing bases are seeing a second wave of infections resulting in reduced economic output.
Adding to the problem are a number of trade disputes with the European Union and China.
The United Kingdom experienced a 35% reduction. Concerns about Brexit from car manufacturers were compounded by widespread factory shutdowns that are only beginning to unwind.
Germany saw exports decline 30%, with the rate of decline slowing from April. Germany, being the largest car manufacturing base in Europe, has had more success in re-opening its economy.
South Korea and Japan, two nations that have had more success in limiting COVID-19 transmission, saw smaller reductions at 26% and 29% respectively.
Car exports from South Korea were already declining in 2019 due to ongoing labor disputes. Despite export volume increasing in Q1 2020, the pandemic quickly reversed this in Q2.
Subdued Factory Production
Reduced car exports can be attributed to large scale factory shutdowns in March-April followed by reduced output levels as car-making nations tread carefully in restarting production.
Volkswagen, Ford, Toyota and Hyundai all shuttered their factories intermittently across Asia, Europe and America in an effort to reduce virus transmission.
Most manufacturers have resumed production activity, albeit at reduced capacity. Consequently, supply has failed to make up what was lost in the preceding months.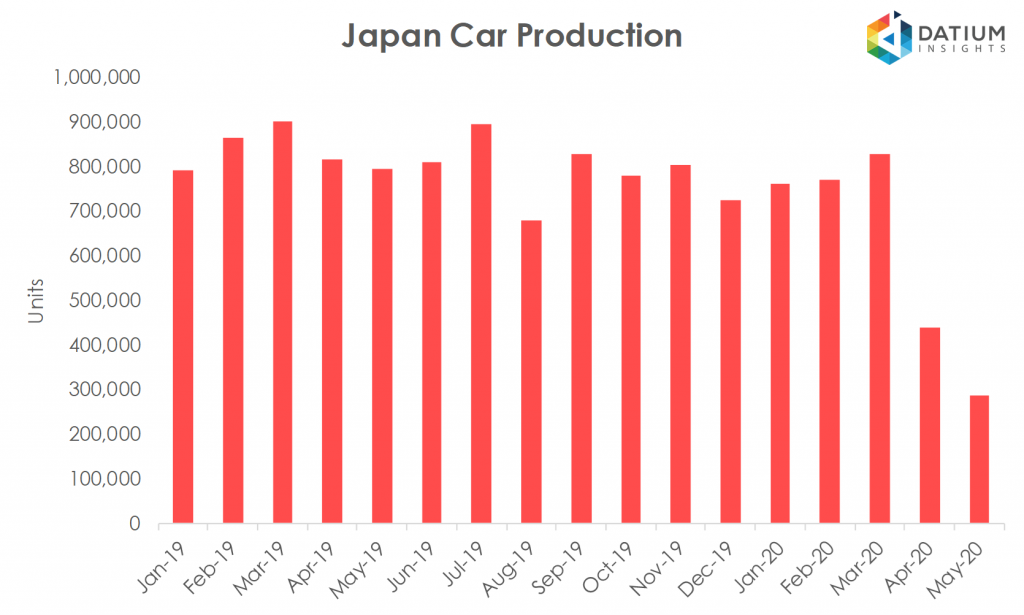 Safety concerns surrounding public transport in many developed nations has spurred increased demand for personal cars.
Consequently, domestic demand in car-producing nations is putting greater pressure on foreign export volumes.
An available COVID-19 vaccine is still months or years away. It's likely domestic demand will continue to be elevated for some time.
For countries like Australia that are entirely dependent on imports, this presents heightened risks of stock shortages which the local market has been experiencing the last couple months.
Decline in Australian Car Imports
Unsurprisingly, car imports into Australia dropped dramatically through May.
While car imports experience swings all the time, the latest downturn represents the largest decline in Australian history.
May figures show car imports were down $1.8 billion compared to May 2019.
The previous largest fall was during the Global Financial Crisis when imports fell $1.2 billion YoY in May 2009.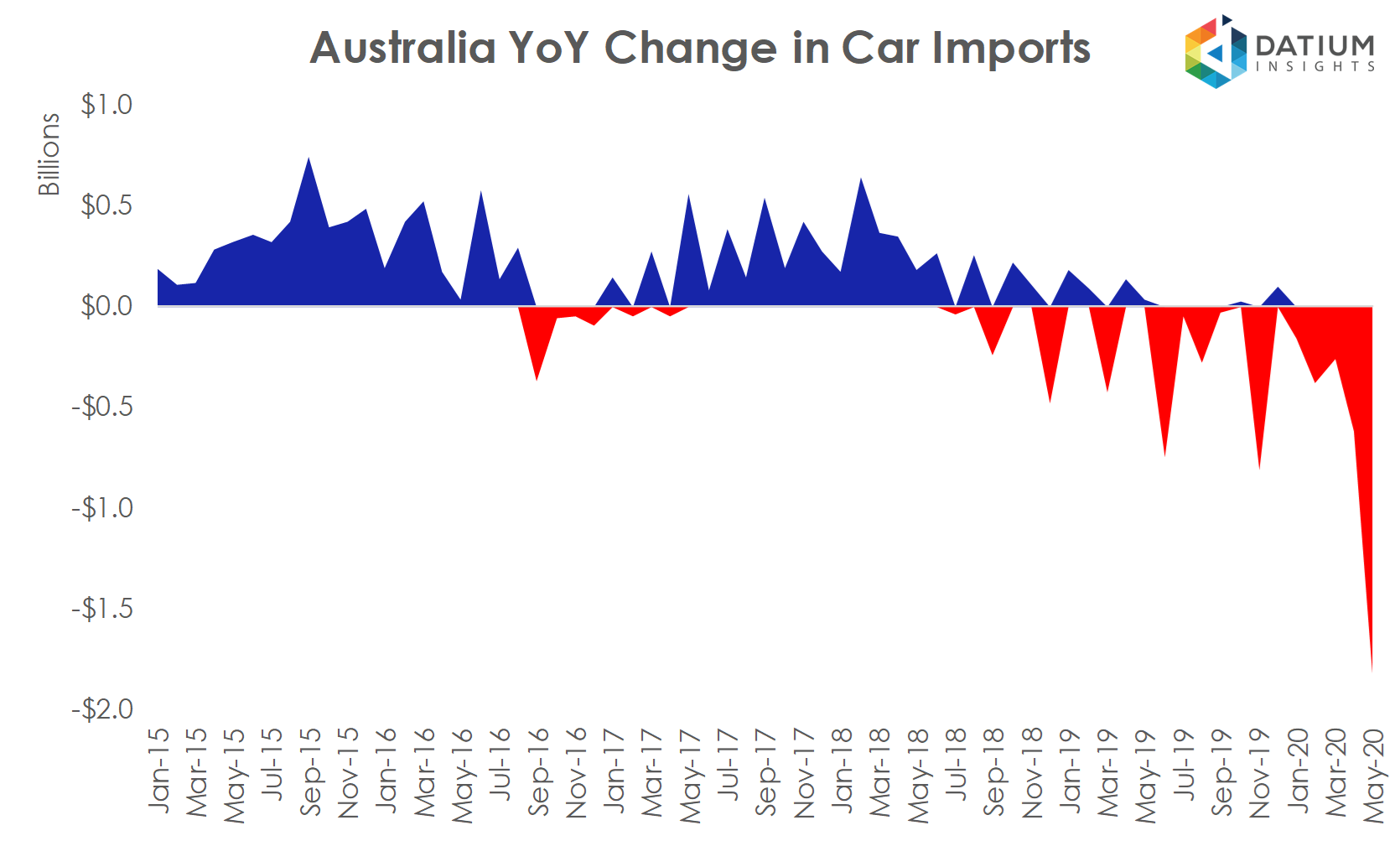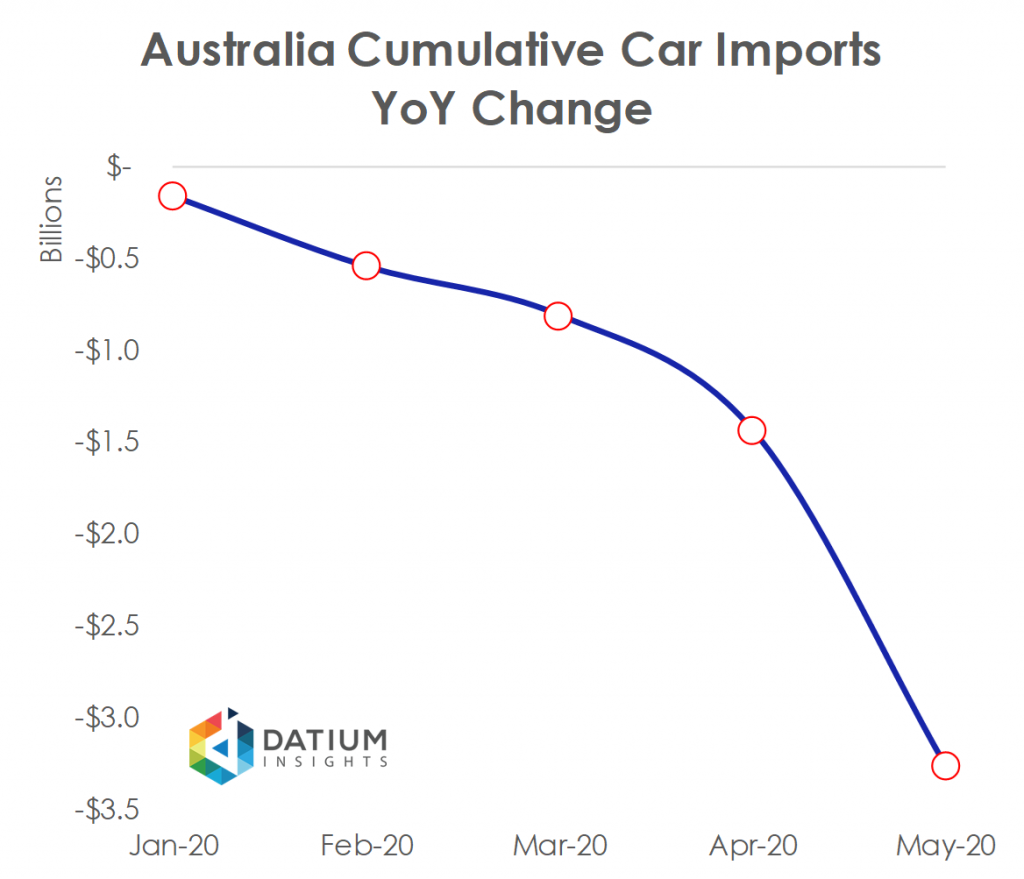 Tallying the reduction so far shows $3.26 billion less imports entered Australia this year compared to 2019.
At an average cost base of $30,000 per car this would result in 110,000 less cars entering Australia so far.
This dramatic reduction is driving stock shortages in dealerships across the country for both new and used cars.
Anecdotal evidence suggests new car discounts have been reduced recently as a result of excess demand over limited stock, resulting in an increase in average sales prices.
Used cars have also been affected. Prices for near-new vehicles has increased significantly in dealership and auction channels to surpass pre-COVID levels.
With global factory production gradually resuming full capacity, the next few months should alleviate supply pressures.
However, the large decline is unlikely to be replenished quickly, meaning prices are likely to remain elevated for some time.
---
Sources
Japan Automobile Manufacturers Association – https://www.jama.org/
Korean Automobile Manufacturers Association – http://www.kama.or.kr
Federal Reserve Bank of St. Louis – https://fred.stlouisfed.org
German Association of the Automotive Industry – https://www.vda.de/en
Society of Motor Manufacturers and Traders – https://www.smmt.co.uk
UK Office for National Statistics – https://www.ons.gov.uk/
Statistics Korea – http://kostat.go.kr/
Korean Statistical Information Service – http://kosis.kr/
Federal Statistical Office of Germany – https://www.destatis.de/
Australian Bureau of Statistics – https://www.abs.gov.au/
---
By Tanim Ahmed, Head of Product at Datium Insights
Tanim is a Macquarie University alumni with degrees in Finance and Economics. He has spent a decade in the Leasing and Finance industry, specializing in Residual Value risk.
Please contact Datium Insights for further analytical support and advisory services.