Holden by the numbers
General Motor's recent decision to cull the Holden brand has undoubtedly closed a historic chapter in Australia's automotive history.
With thousands of jobs at stake and millions of dollars' worth of investment likely wasted, there's plenty of concern to go around for organisations involved in Holden's supply chain.
While industry and government battle with GM on how best to compensate dealerships, there are likely thousands of businesses and organisations across Australia wondering what it means for the value of Holden's in their fleets.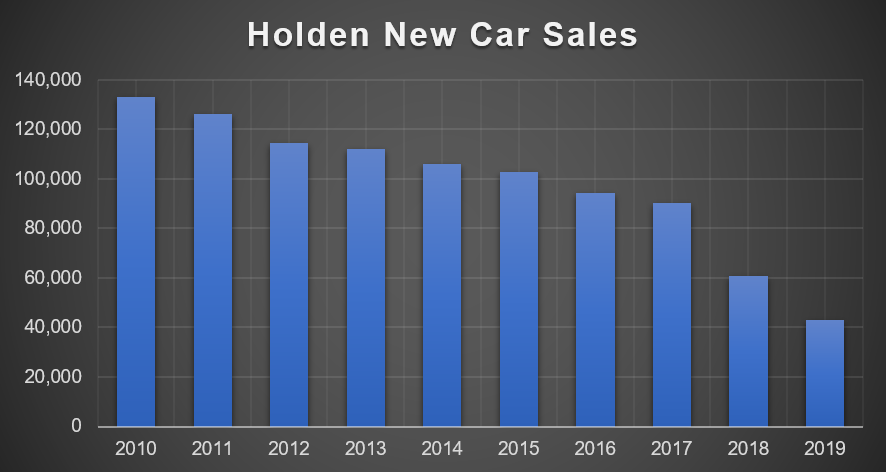 Holden has seen a dramatic fall in the last decade, falling from sales of over 130,000 in 2010 to only 43,000 in 2019 – a reduction of 68%.
Despite this, there's still a lot of Holden's being driven around Australia's roads.
Over the course of the past 10 years there's been close to 1 million Holden's that have entered the used vehicle market, with a sizeable portion of them still sitting on used car dealer lots or in business fleets across the country.
For the owners and operators of these cars its essential to understand the underlying value of these assets today and tomorrow to gauge a clear picture of the business's financial position.
Importance of Valuations
While models like the Commodore and Colorado reigned supreme for many years in Holden's line-up there are a diverse assortment of other models now on Aussie roads in much fewer numbers.
Determining a fair market value for these vehicles can be a taxing exercise, even for tenured dealers in the industry.
For fleet businesses and large organisations who may have less expertise in vehicle valuations this may involve spending enormous amounts of time searching through listings and prices to determine a fair market value.
Another source of frustration is identifying the exact car itself, which for fleets of thousands can be a time consuming and expensive exercise.
To alleviate organisations of this burden Datium Insights has developed a revolutionary valuations tool that can provide accurate market values instantaneously for thousands of cars at a time.
Datium InstantVal
Datium InstantVal was born out of the idea of valuing assets quickly and remotely without sacrificing accuracy.
It utilises state of the art machine learning technology which harnesses millions of data points to establish the most accurate used car valuations available in the market.
Coupled with this sophisticated machine learning technology is the exclusive data that feeds it.
Utilizing Pickles Auctions' historical sales records, Datium InstantVal canvases over 1 million historical used car prices across auction and dealer environments to determine the most accurate market value for any car.
All the data that feeds Datium InstantVal are actual prices that cars have sold for, not advertised prices.
All you need is a rego or VIN and you can retrieve the most accurate valuation on your car within seconds. Using its API you can cycle through your portfolio in minutes as opposed to spending days fiddling in spreadsheets.
We've tested it against thousands of historical sales prices, as have our growing customer base.
Over the past 90 days our customers have valued over 4,000 Holden's across Australia.
If you're a business with a fleet of Holden's or a dealership looking to get a better hold of your used Holden stock, then try Datium InstantVal on a free 2-week trial to see its accuracy in motion.