Read our monthly update on car supply movements into Australia.
---
---
New Car Sales August 2020
August 2020 saw a total figure of 60,986 new car sales for Australia as reported by VFACTS
Latest VFACTS figures show that new car sales have fallen by 29% in August 2020 compared to August 2019
The strong bounce back in new car sales in June has tapered off as EOFY sales and instant asset write-off incentives fell away
So far in 2020, the market has seen 147,377 less new car sales compared to 2019
In total, the new car market in 2020 is down 20% compared to 2019, which is a on par from last month when it was down 19%
---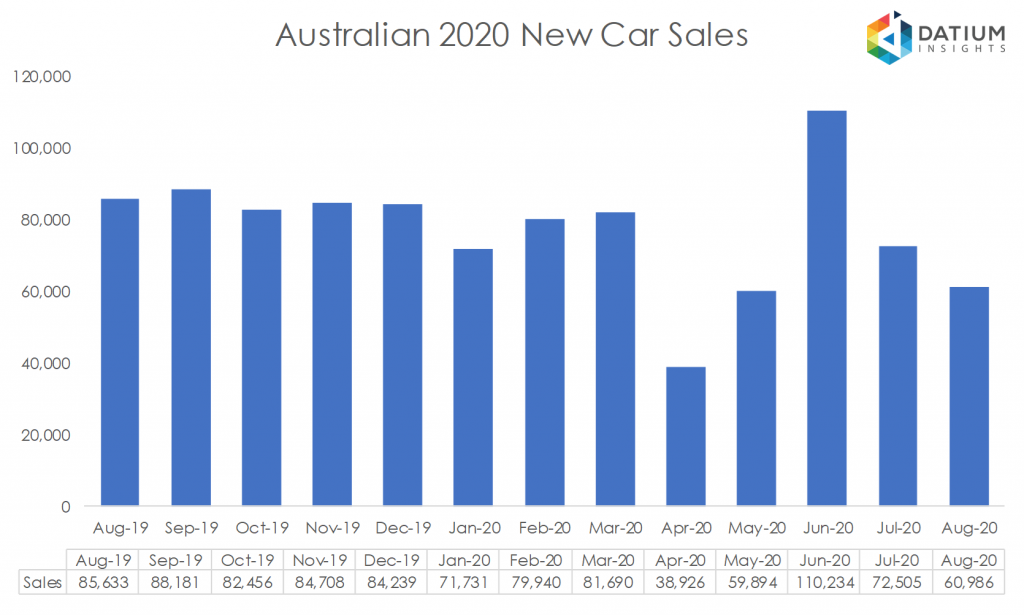 ---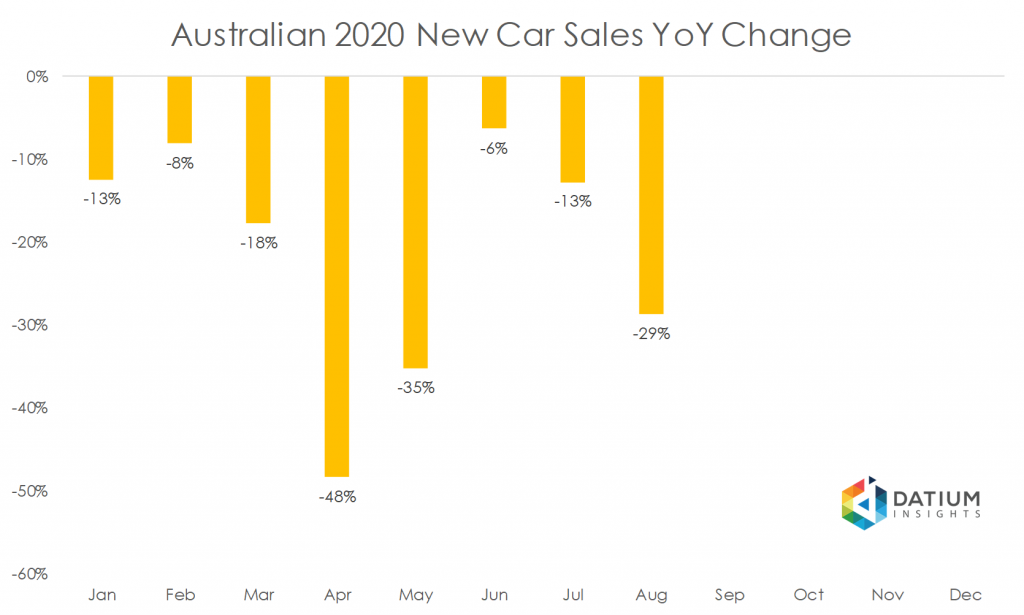 ---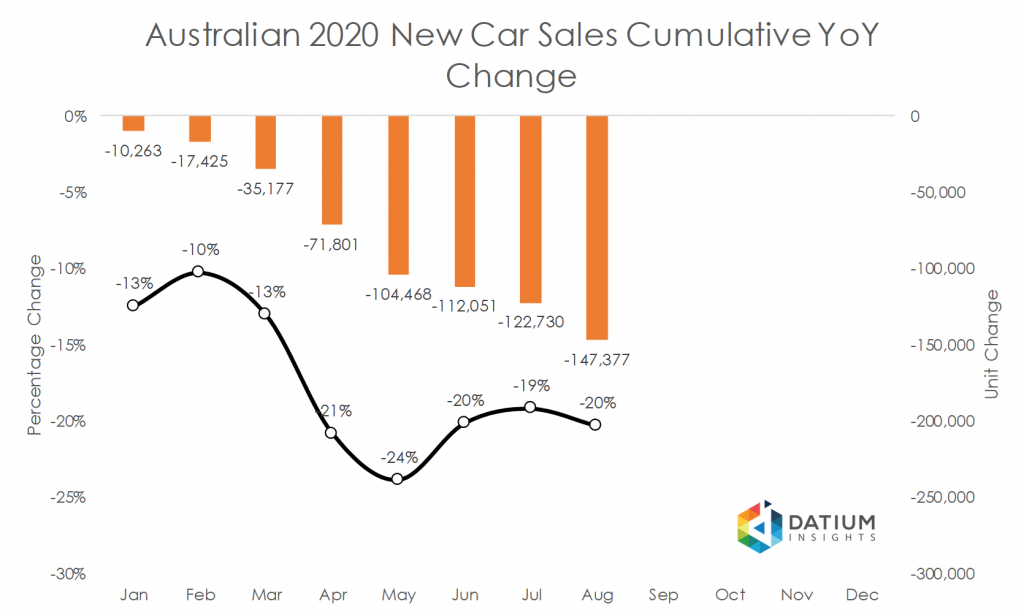 ---
New Car Sales Trends
So far this year there are only a handful of segments that have sold higher than last year, including:
People Movers > $60k (+153%)
SUV Upper Large > $100K (+31%)
Light Buses => 20 Seats (+27%)
Small > $40K (+13%)
Upper Large > $100K (+3%)
SUV Large > $70K (+3%)
Conversely, some of the largest decreases have been in:
Large < $70K (-65%)
Light < $25K (-47%)
People Movers < $60K (-41%)
Large > $70K (-38%)
Sports > $80K (-37%)
Small < $40K (-33%)
Some other highlights:
Small to Medium SUV's dominate the list of vehicles that have outperformed so far this year, with the Toyota RAV4, Kia Seltos and Mazda CX-30 leading the way
Small vehicles have so far seen the largest declines with the Mazda 3, Hyundai Accent and Hyundai i30 falling the most
The rental market has shrunk considerably this year, with 27,115 less cars selling so far this year to rental businesses
---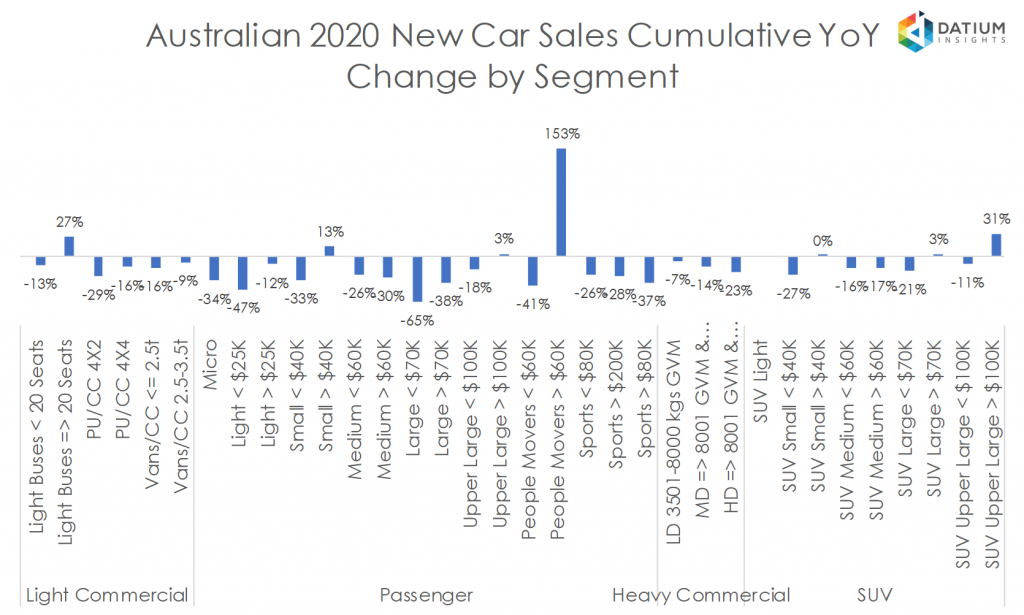 ---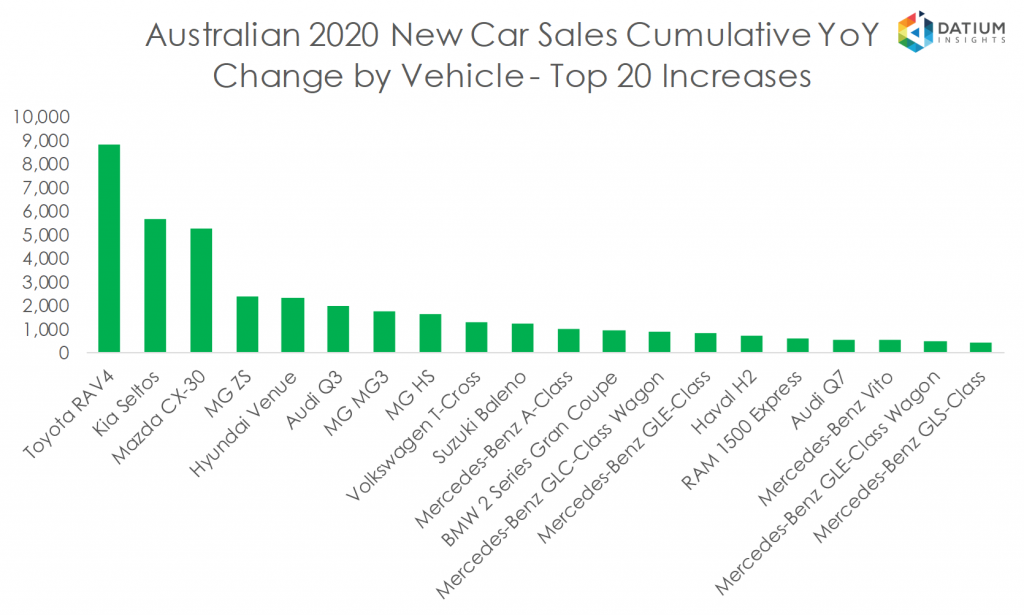 ---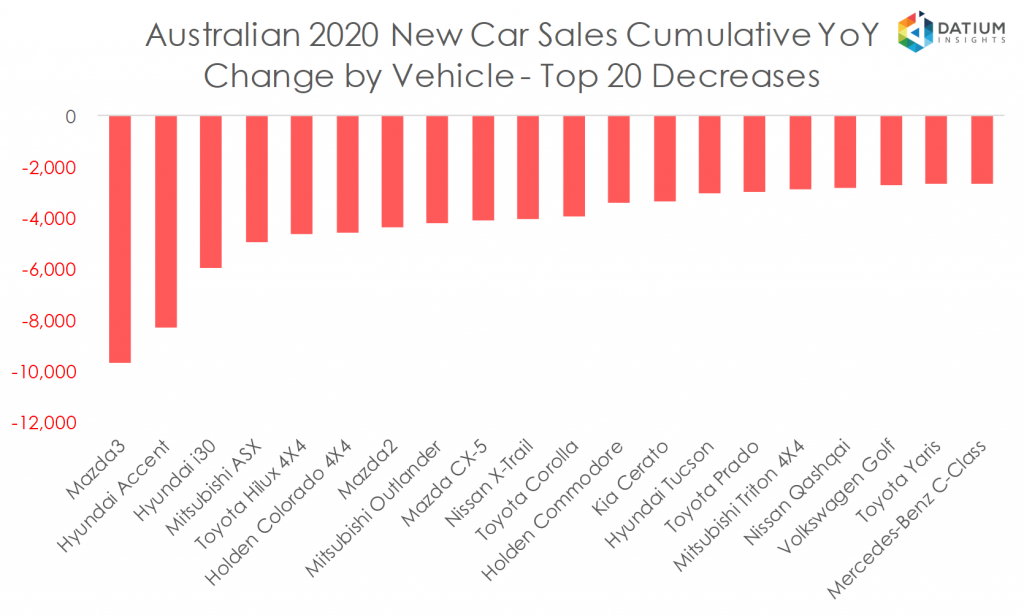 ---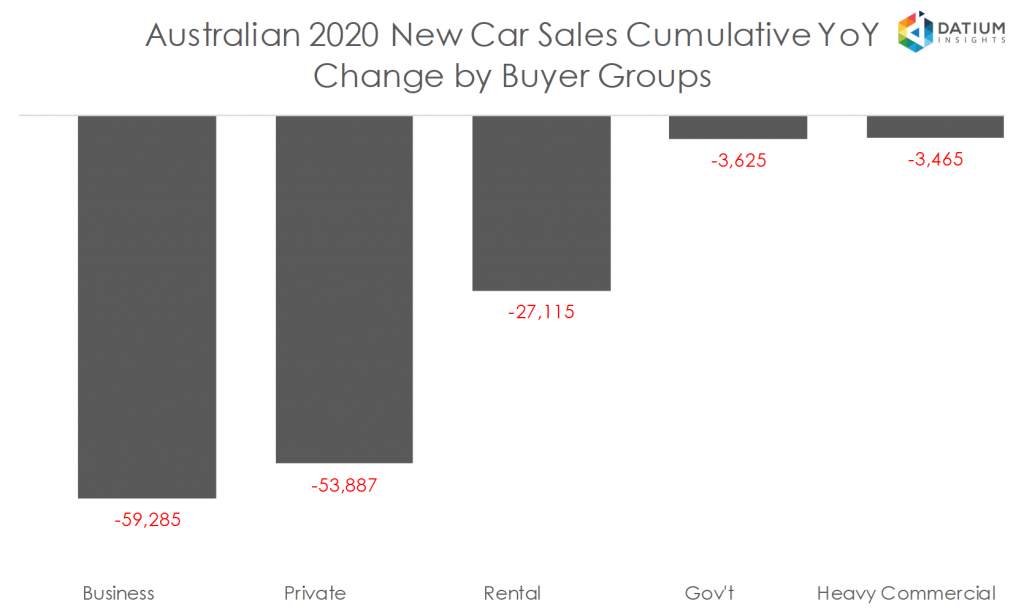 ---
Car Imports
Car Imports rebounded in July 2020, recording a figure of $2.43 billion according to latest ABS figures
This represents a decline of $0.8 billion compared to July 2019
The cumulative total for 2020 shows imports are now down $5.4 billion compared to 2019
Sales of imported vehicles continue to increase from China (+4,481 YoY) while European manufacturers are seemingly redistributing their production across the continent
Sales of imported vehicles from the largest manufacturing countries including Thailand, Japan, South Korea and Germany continue to be down
Stock supply entering Australia is significantly down which will affect new car sales activity for the coming months
---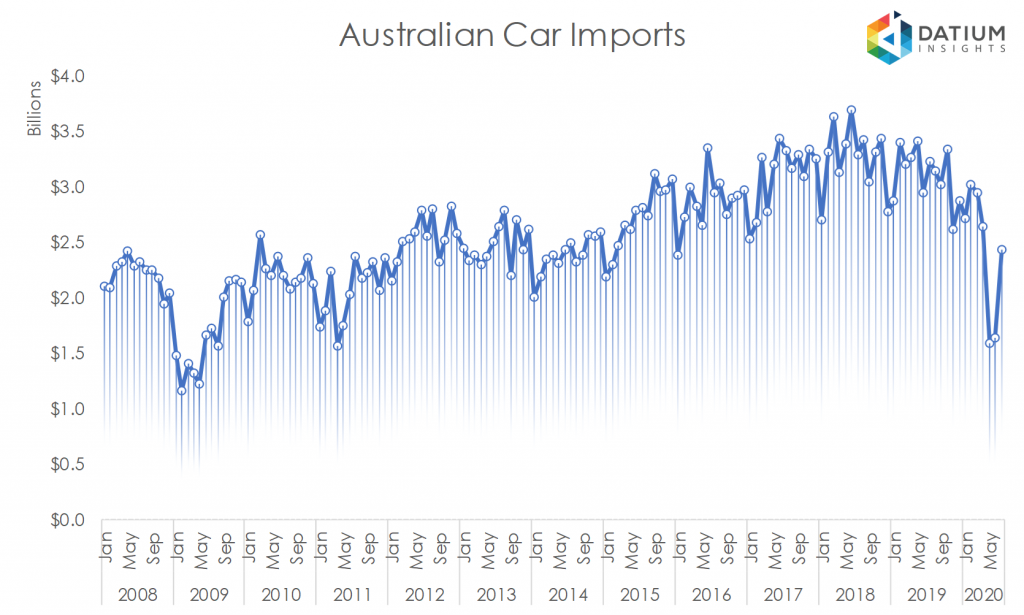 ---
---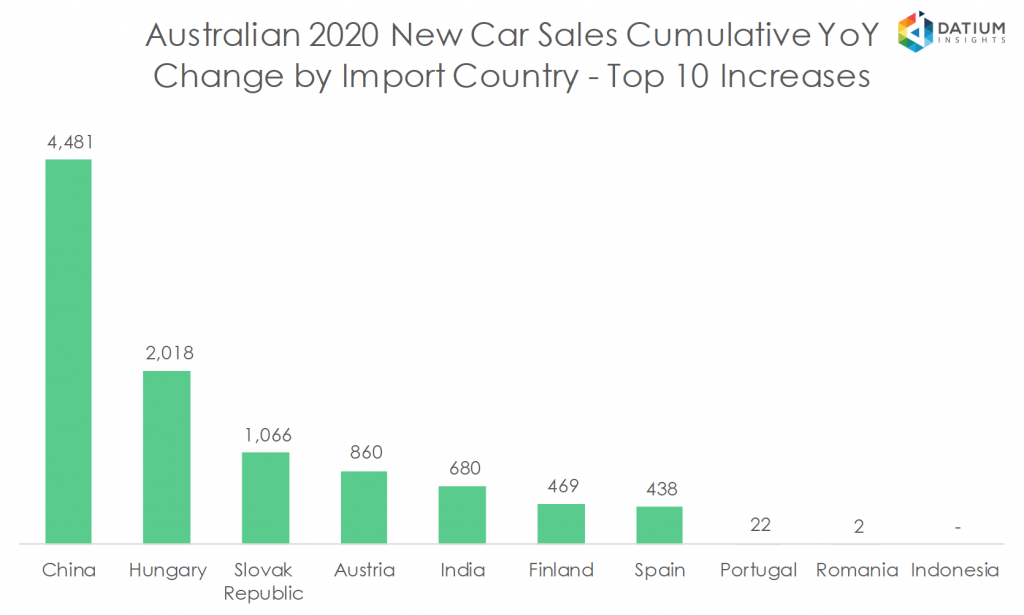 ---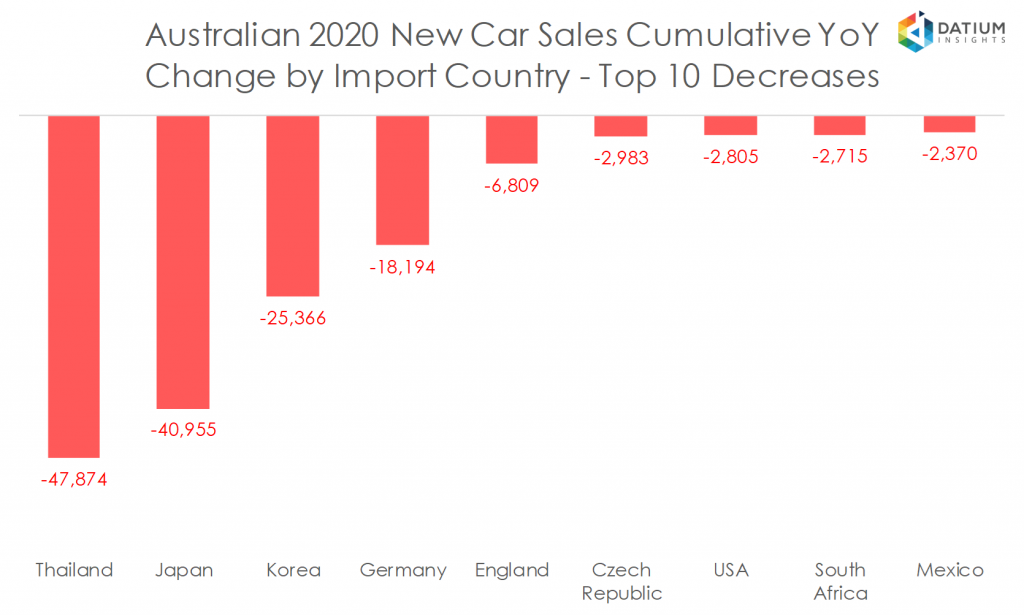 ---
International Car Exports
The latest government figures show the following changes in car export volume from the large car manufacturing nations:
South Korea is down 27% so far through June 2020 compared to 2019
Japan is down 33% so far through July 2020 compared to 2019
The United Kingdom is down 39% so far through June 2020 compared to 2019
Germany is down 31% so far through June 2020 compared to 2019
The United States is down 45% so far through June 2020 compared to 2019
With car production and exports from international markets still significantly low, imports into Australia are likely to remain subdued for sometime.
New car sales in large international markets are also still low and with Australia further down the priority chain for car manufacturers, it's likely that new car supply into Australia will struggle for the next few months.
---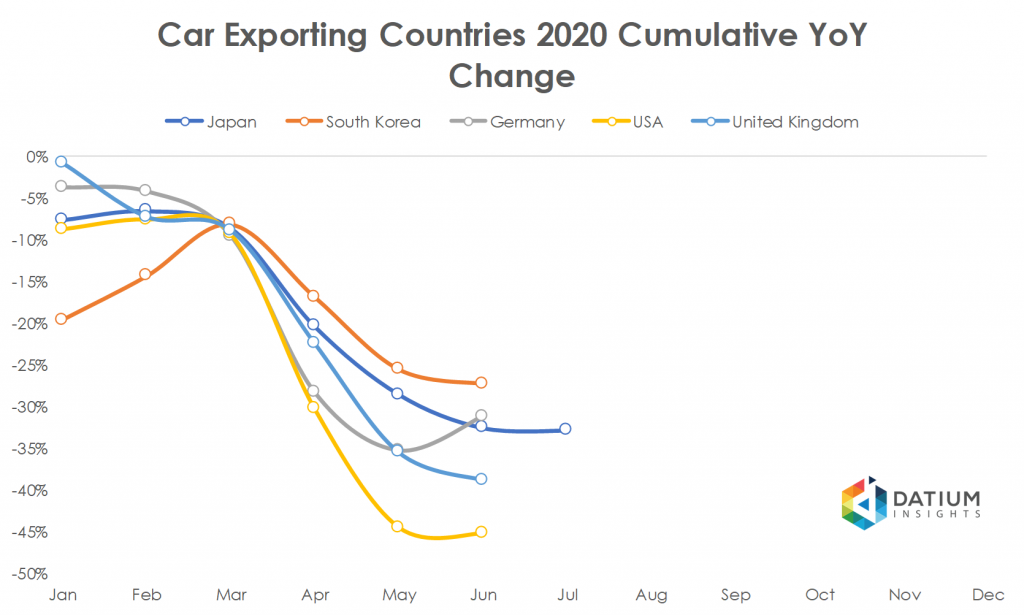 ---

---
By Tanim Ahmed, Head of Product at Datium Insights
Tanim is a Macquarie University alumni with degrees in Finance and Economics. He has spent a decade in the Leasing and Finance industry, specializing in Residual Value risk.
Please contact Datium Insights for further analytical support and advisory services.
Disclaimer: This is a general information service only and we do not provide advice or take into account your personal circumstances, financial situation or needs. Please seek professional advice with regards to how any of the material on this website can impact your own financial situation. Datium Insights is not liable for any loss caused, whether due to negligence or otherwise arising from the use of, or reliance on, the information provided directly or indirectly, by use of this website.