Read our monthly update on global car production, new car sales in key markets, export levels and imports into Australia.
---
---
Note: We've made some changes to the reporting method for some of our charts and insights. Going forward, where we are comparing current periods to historical periods we will be using 2019 as the base period. Any charts that include the heading 'Rolling 12-Month Cumulative Change versus 2019' are a comparison of the data for the latest 12 month period to data in 2019. This change is to allow easier comparison of trends across different data points.
Please contact us at info@datiuminsights.com.au for any questions.
---
Global Car Production
Japan is down 10% through July 2021
South Korea is down 8% through August 2021
The US is down 25% through August 2021
Germany is down 26% through September 2021
The UK is down 25% through August 2021
China is up 4% through August 2021
---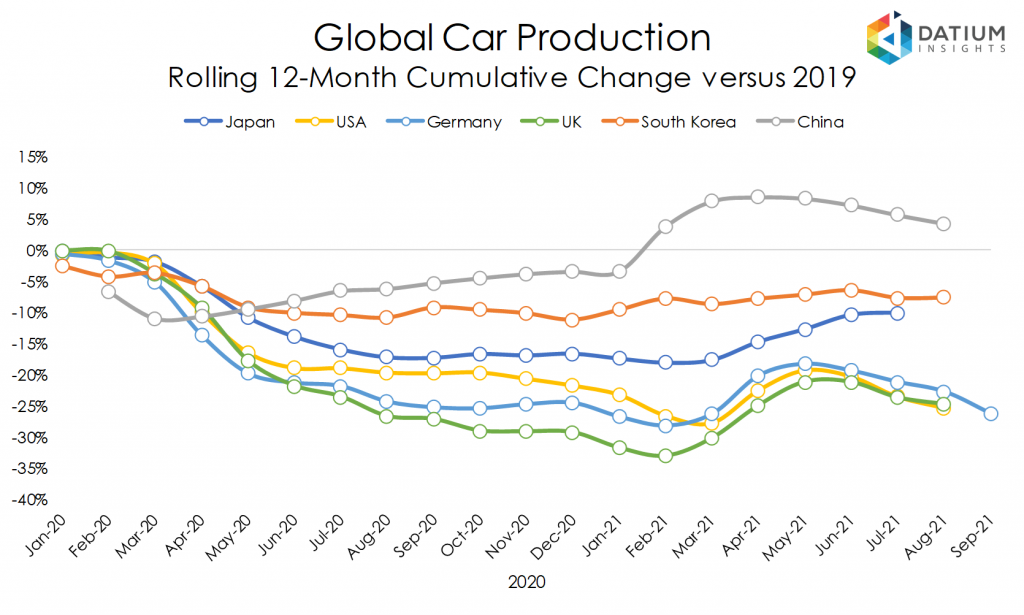 ---
International Car Exports
The latest government figures show the following 12 month rolling changes in car export volume from the large car manufacturing nations:
South Korea is down 12% through August 2021
Japan is down 13% through August 2021
The United Kingdom is down 17% through August 2021
Germany is down 25% through September 2021
The United States is down 17% through July 2021
Indications from September figures suggest car production and export levels around the world are facing obstacles due to chip shortages.
Despite these challenges demand is proving strong worldwide spurring strong new car sales results combined with increasing demand in used cars as well.
Imports into Australia have largely recovered from COVID, however the majority of sales currently are being diverted to private buyers.
With strong demand from businesses and corporations to re-stock their fleets, new car sales in Australia are likely to be strong over the next 12 months.
---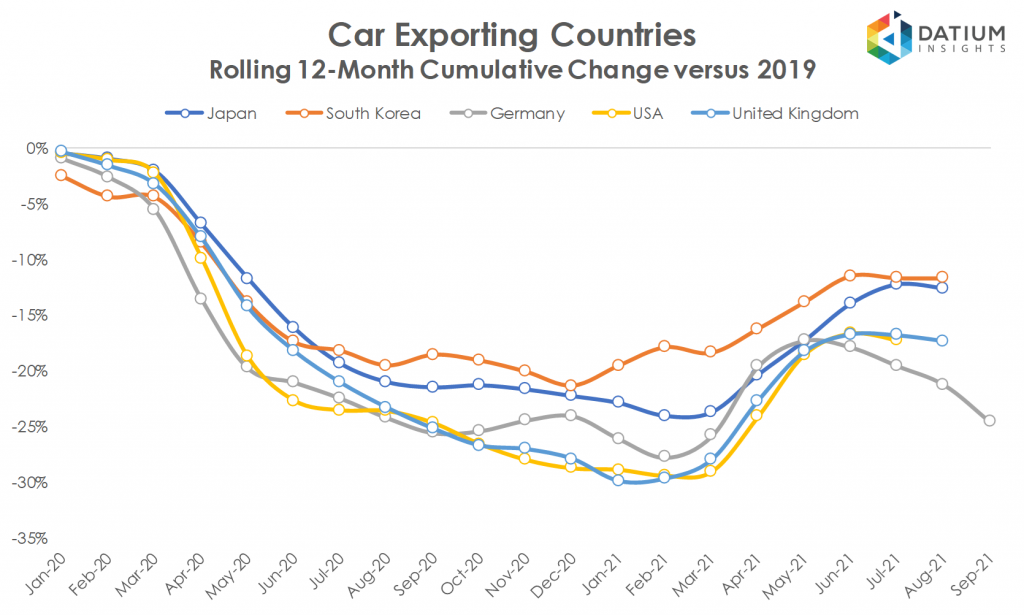 ---
Car Imports into Australia
Car Imports fell in August 2021 from the prior month, recording a figure of $3.619 billion according to latest ABS figures
However, this still represents an increase of $855 million (+31%) compared to August 2020
The rolling 12 month change shows imports are now up 16% compared to 2019
Stock supply entering Australia is picking up pace after months of significant volatility
---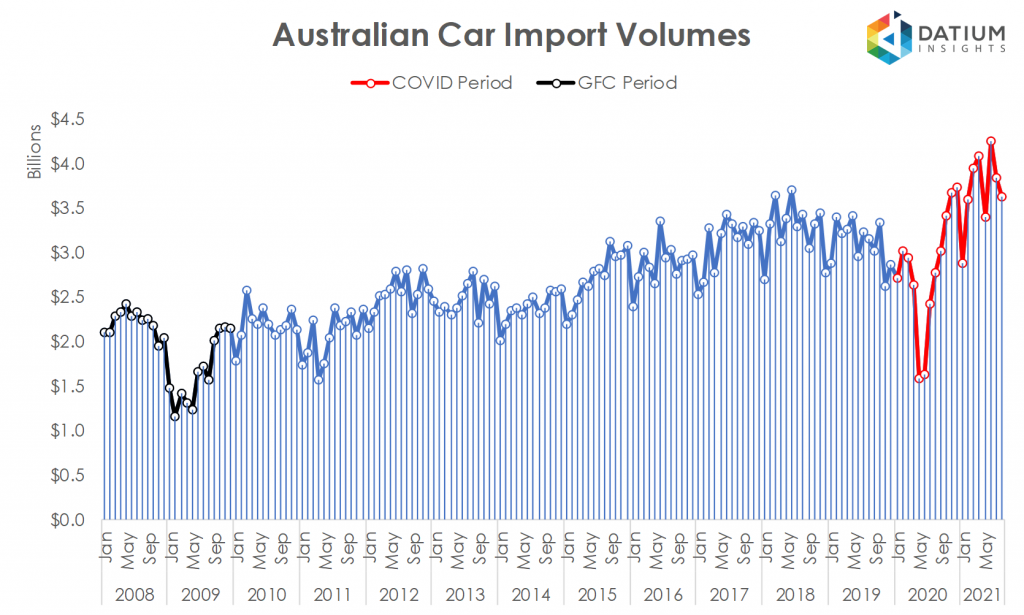 ---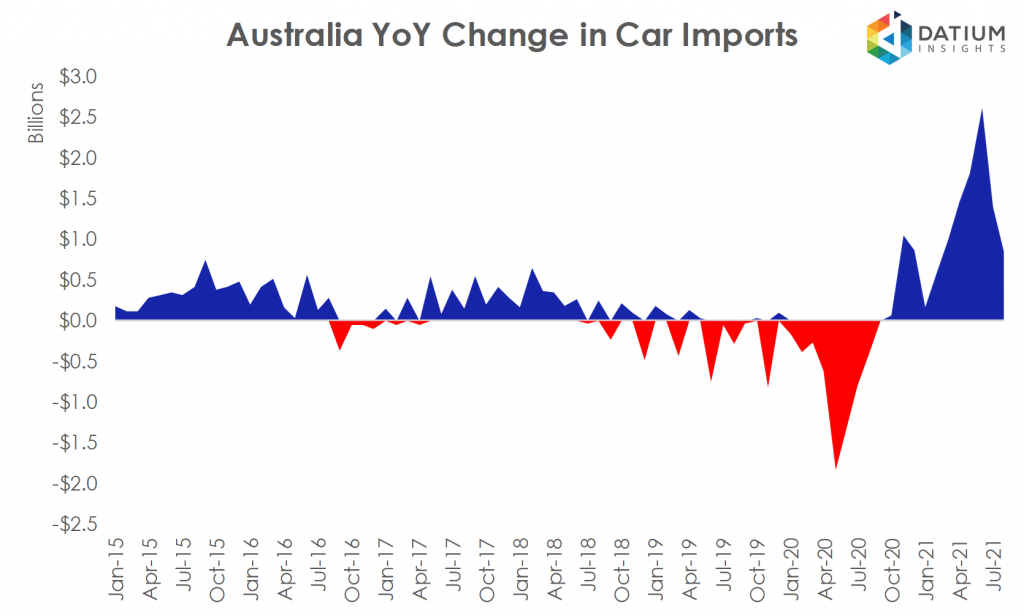 ---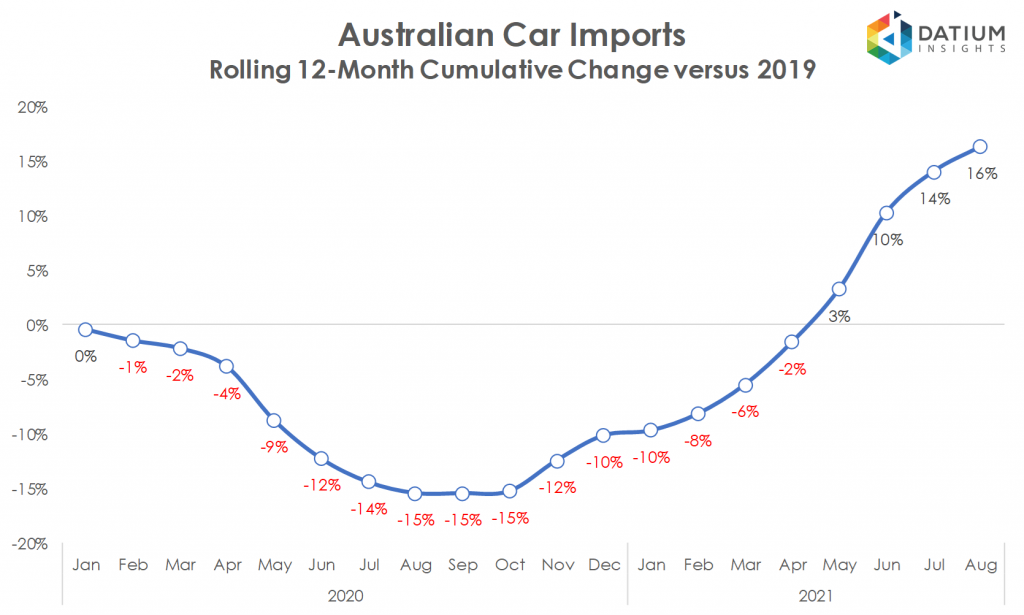 ---
New Car Sales
In North America, the US is down 6.7% while Mexico is down 27.6% through September 2021. Canada is down 9.5% through July 2021
In Europe, Germany is now down 17.1% through August 2021
The UK is down 18.5% through August 2021
Spain is down 26.1% through August 2021
France and Italy are down 17.1% and 13.1% respectively through August 2021
In the Asia Pacific region, Australia and New Zealand are both up 2.4% and 0.3% respectively through September 2021
Japan is down 9.9% in September 2021 while South Korea is up 0.02% through August 2021
---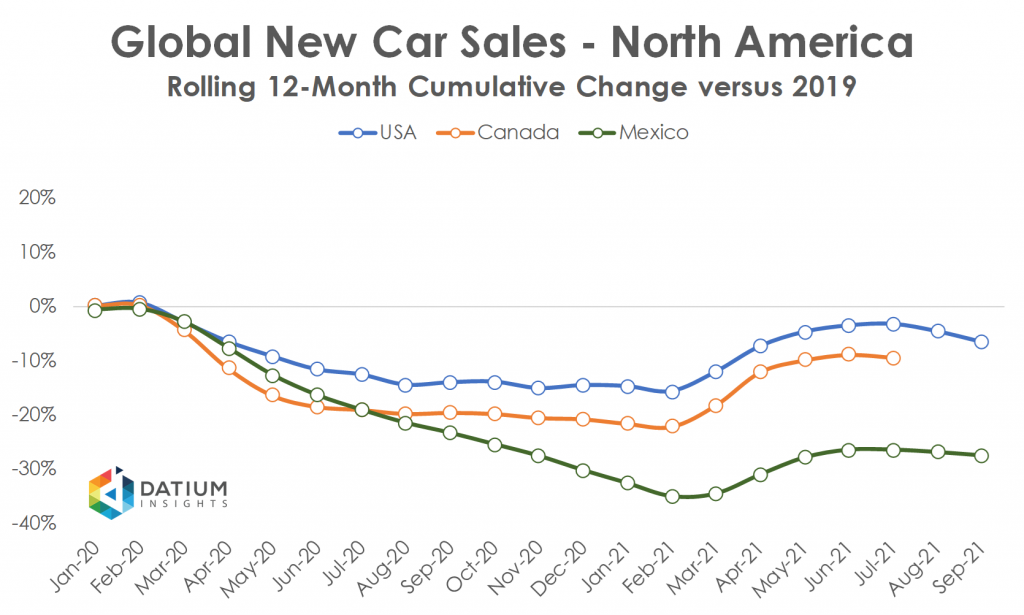 ---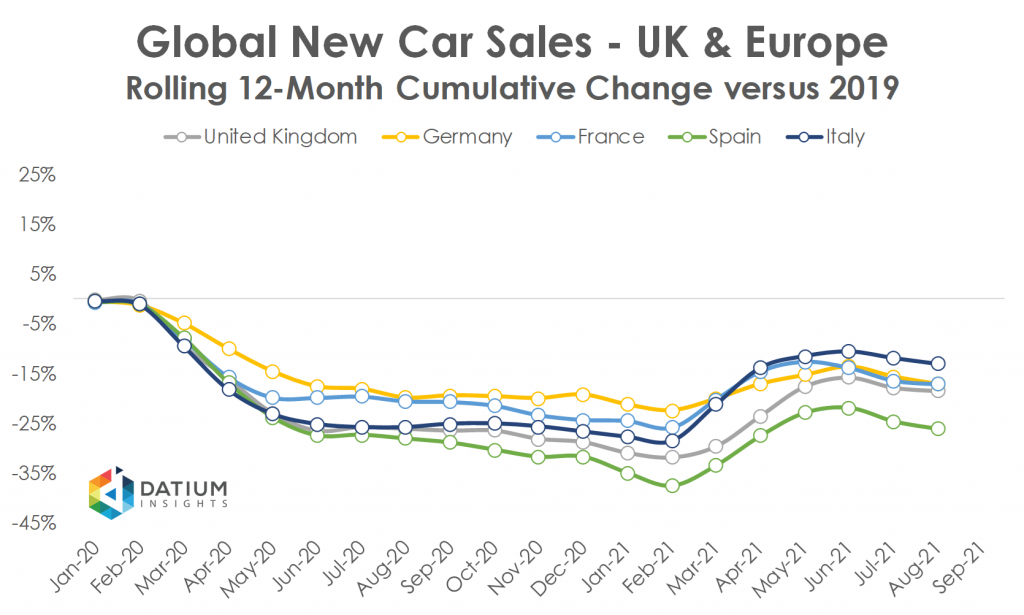 ---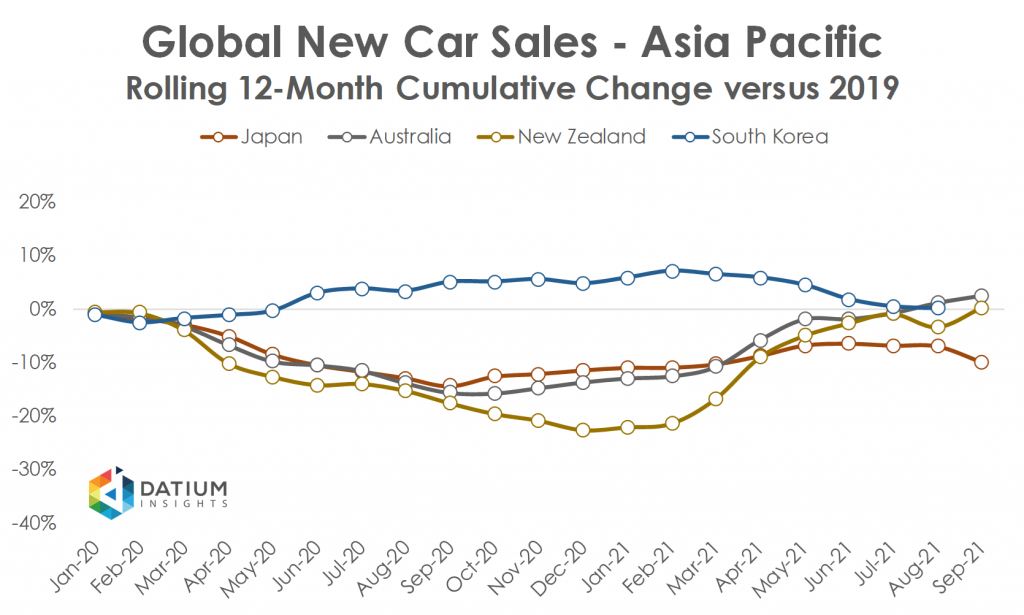 ---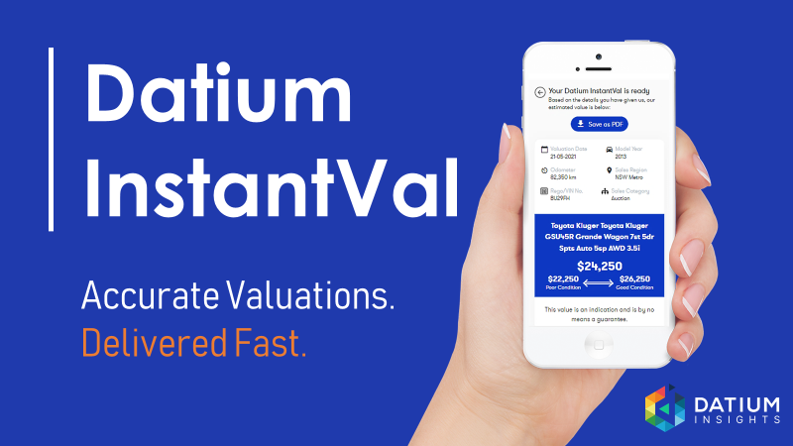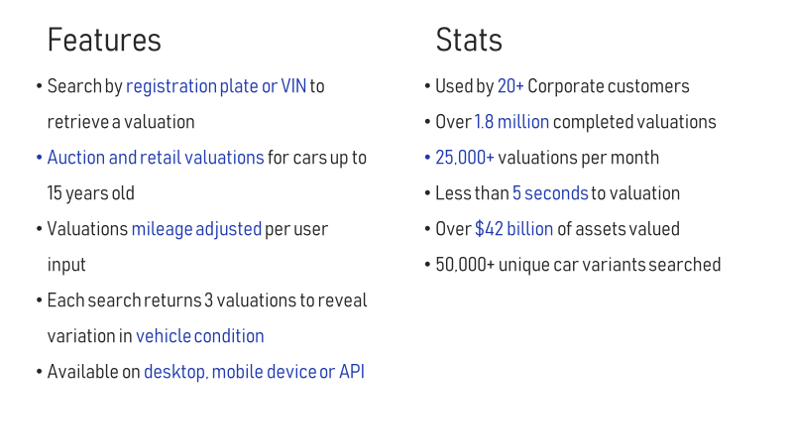 ---
By Tanim Ahmed, Head of Product at Datium Insights
Tanim is a Macquarie University alumni with degrees in Finance and Economics. He has spent a decade in the Leasing and Finance industry, specializing in Residual Value risk.
Please contact Datium Insights for further analytical support and advisory services.
Disclaimer: This is a general information service only and we do not provide advice or take into account your personal circumstances, financial situation or needs. Please seek professional advice with regards to how any of the material on this website can impact your own financial situation. Datium Insights is not liable for any loss caused, whether due to negligence or otherwise arising from the use of, or reliance on, the information provided directly or indirectly, by use of this website.